Thaibase @ Bdr. Sri Damansara
GONG XI FA CAI -
Xing Nian Kwai Le
Wasssuppp Shaz:
Lazy lazy me! Suppose to go to the gym like 4x a week at least, this week i only went 3x! Arghhh...and summore i broke my regime! my diet... ARGhHh!!! LoL... Anyways I'd like to wish my friends a Very Happy Chinese New Year for those who celebrate! And for the rest of y'all.. Happy Holidays!
Was at ThaiBASE Restaurant, which is under GROUPBASE Catering group in Bandar Sri Damansara. They serve a fusion of food here from local to Thai! Some of the best dishes on the menu currently is the:
>Butter Cream Chicken
>Laksa Johor
>Beef Basil Beef
The rest that we've tried so far are their Lemon Chicken, Krabu Mango, Green Thai Curry, Tom Yam and all.. they were just ok! (I seriously don't recommend you to have their Green Thai Curry - it looks VERY VERY VERY Green!)
Their Tom Yam - well when we received ours it was COLD and (if we ask them to reheat it, might take like 15minutes or more!) i've had better elsewhere!
Funny isn't... for a Thai cuisine restaurant, their Tom Yam is not that good??? Anyways their BUTTER CREAM CHICKEN is to DIE FOR! So Cheesy, Creamy and AWESOME! Really... no other restaurant can beat this!!!
Was here with a bunch of friends! Namely Haziq, Simone, Richard, Jason and myself! A small group i always prefer - we get to catch up even more!
The Restaurant is UBER FAMOUS!
We arrived at 8.30PM with a reservation (the place was already super full), ordered and we only got our food at 9.45PM or close to 10PM! It was a long wait... but good thing was we had a lot to catch up!
But we did went from HUNGRY > REALLY HUNGRY > REALLY HUNGRY > Not So Hungry > NOT HUNGRY... Oh.. food arrived! EAT > HUNGRY > FULL :P
Here's a tip - wanna check out the restaurant, make a reservation first and pre-order your food on the phone.
No 7&8 Jalan tanjung SD13/2 Bandar Sri Damansara, 52200 Selangor.
Tel: 0362721184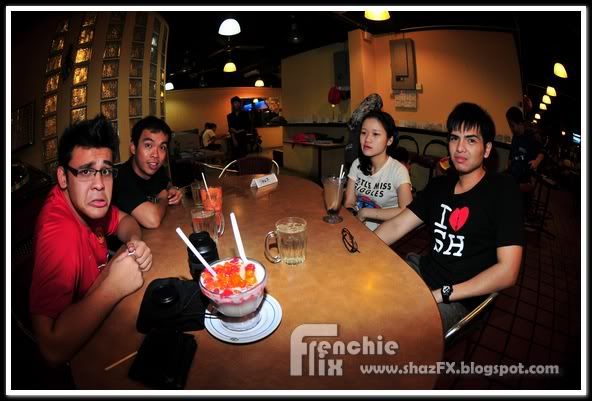 Sad Face - coz we waited for 1hr30mins for our food!
Almost happy face coz our food almost coming!
Haziq - I HEART Shanghai he says!
Tom Yam, Krabu Mango & Beef basil
Lemon Chicken (nice but Lemon Restaurant @ The Mines and Metropoint Kajang better)
Super creamy,and awesome Butter Cream Chicken
Beef Basil Beef
Krabu Mango - i still prefer the one at The Chicken Rice Shop in MV
Richard and Jason wants MORE!!! still hungry
And Haziq told them to go to the KITCHEN which is THAT > way...
Labels: Bandar Sri Damansara, Groupbase, Thaibase, Thaibase GroupBASE Catering