Good ol' Happy Days
Wasssuppp Shaz:
Was at D'tour by DiGi at their HQ last saturday with
Aaron Kee
and i was in the PINK team with 21++ other team members and we got 1st prize for the contest participation throughout the day which is a combination of teamwork from stage play, answering a series of questions, photo contest with captions and much more! The 1st prize was RM 2K worth of SPA Vouchers per person... to indulge in! OMG that's a whole lot and i guess its like everyweek at the spa for me! Hahaha NO la... gave it to my mom and the leftovers she don't want i'll take it :) Anyways... thank you DiGi for the awesome treat at your HQ! Its the fun, the great activities and meeting new friends. Blog update and FB photo update for this event will be up soon.
Went to Good ol' Happy Days
- not so happy after visiting this restaurant for dinner... for an in-depth review / comments about this diner -
please proceed below...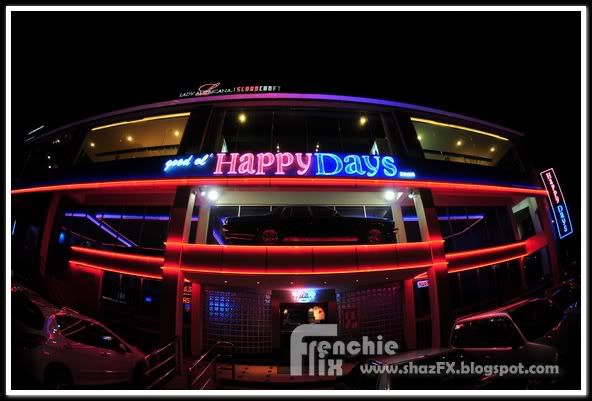 Was at Good Ol' Happy days (not so happy after dinner here) for dinner with Gary, Sandra, TK and Aaron. The first time we went to this restaurant, it was around 10.30pm and kitchen was closed... so we came again with a reservation in hand recently. Our experience here was bad! All the way from start till end... (the waiters and waitresses were good but...)! Wanna know more... let's read up my complete review about this location.
Actually prior to dropping by the restaurant, i made some research online to find out what people has to say about about the restaurant. Found 3 local Malaysian blogs talking about it and they all said it was great! Of course... it was the launch that they were invited to (the atmosphere and all was great!) but is the food any good? Found a comment by a recent visitor to their blog and commented that the food is bad! Hmmm i didn't wanna believe it at first... but oh well what's done is done and we experienced it and - am here to share with you what we experienced.
There's so many things i want to write about - therefore i shall write them in point form! Hope you guys can bare with me! I've never had to write a bad review about a particular restaurant before, and usually all the restaurants i go to are great! Yes i'm quite picky with food but my friends are not... (but this time my friends totally agree with me) and am sorry to have bugged them to try this restaurant together with me!
Why did i really wanna try this restaurant? Oh well... its an all new concept - AMERICAN DINER. I miss it back in America, really miss my hometown (yep, am from California). Been living abroad most of my life from the States to France and now in Malaysia!
Well i really wanted to try this restaurant and so i asked 4 of my friends to join me for dinner and they all turned up on time but the food was otherwise... Let's see what not just I have to say about this restaurant, but the rest of my mates!
The Verdict:
1. Reservation
I made a reservation for 6 pax and specifically asked for the "U" shape table - which depicts a real american style diner. And the lady on the phone said yes to the request. And i asked her can the table fit 6 pax? She replied yes! When we arrived, we weren't given that table as they was another party seated there and we were given the normal table elsewhere. So what's the point of coming to this place if we didn't get that "american style" table that we so wanted to! Anyways this is not such a big issue!
2. Drinks
They ran out of Ice Lemon Tea, and so we wanted to order Sky Juice "Ice Water" and they said we don't have that unless you want tap water with ice! Asked if its filtered, they aren't sure. In the end had to ask for HOT water with ice! The refill later was tap water with ice -__-". Anyways the rest ordered soft drinks!
3. Food
We ordered a honey glazed spring chicken, Fish & Chips, 2 Stripped Beef Sandwich & a Chicken Sandwich. All came with different type of sauces...
Fish & Chips:
Nothing to shout about the Fish & Chips (even other fast food restaurant serves better ones),
Stripped Beef Sandwich:
This was just an a-okay dish! Seriously the Roast Beef Sandwich at DOME Cafe tastes far more superior than this.
Chicken Sandwich:
Or was it a burger... this was the worst... the sauce just doesn't go with it totally. To say that it's an American style... not really but still the whole mix just doesn't go well and the taste wasn't satisfying. Aaron ate half of this sandwich and left the other half as it was really unbearable.
Honey Glazed Spring Chicken:
Perhaps the only one on the menu that tastes good! I kinda like this but it's a tad bit expensive for such a small spring chicken!
4. Customer Service:
Halfway thru eating, the waiter came to our table and asked if everything is ok and how is the food. 3 out of 5 of us expressed our dissatisfaction on the food quality and taste to the waiter... and nothing was done by the waiter except he said he will let the management know. If this was to happen in a similar category restaurant (i.e.: TGIF, Chilis) - the waiter at those restaurants would immediately call up the Manager to come to the table. In our case - no such thing was done.
5. Product Knowledge:
When asked for recommendations on what to order via the waiter, and asked what's good here... the answer given was "EVERYTHING IS GOOD!". --__--" Listen up... you can't just say everything is good here although everything is good (if it's really true). Asked for a recommendation... you (waiter) should be asking what are you looking for Beef Chicken or Fish? Then give recommendation on what's good under each category.... But oh not... they said everything is good (sounds like either they don't know about their own products / food they're selling or they just don't care).
So what else to say...
This is my 1st time to Good ol' Happy Days American Diner @ USJ Taipan and probably the last time! If you're reading blog entries for food reviews - the great ones that i always look out forward to are those that goes either solo / couple / a small group. The ones that goes in a big big group like 15-20 pax... nahhh those feels like they might have to please some people in the course of the review. Thus, that is what i read and made me excited on coming here to the restaurant at first place - but in the end i was disappointed.
Here's what we have to say...
Gary -
I'd never come here again for food! Drinks maybe...
Sandra -
For the price range of the food here, i'd rather head over to TGIF / Chili's (actually some of the food here is more pricey than TGIF!). For better taste and great quality - this may not be IT!
Thong Kai -
Not too pleased with my meal, even TGIF is better! Some people even say TGIF sucks! But if TGIF sucks, what - even more for this restaurant???
Aaron -
I can't believe i wasted my money on this chicken sandwich - for me it's totally unedible. I only ate half of it and left the other half for Shaz to try! The sandwich was just covered with too much sauce and made everything soggy and the sauce just doesn't mix well with what's served.
Shaz -
The honey glazed spring chicken was good, but a tad bit expensive - on a different note i actually don't mind coming back here for this particular dish! It's quite nice :)
Anyways, we had quite a fun nice time here catching up with one another - Good ol' Happy Days is a great place to chill out and enjoy the American Diner feel! Perhaps you should try out here and order the Milkshakes! My colleague mentioned that the milk-shakes here are to die for! Unfortunately we didn't get the chance to order that the last time we went!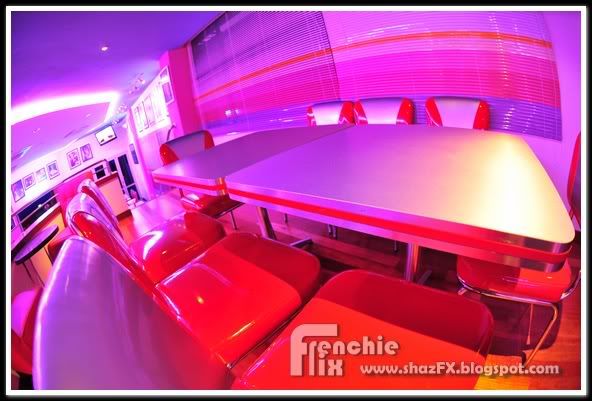 The american style dining area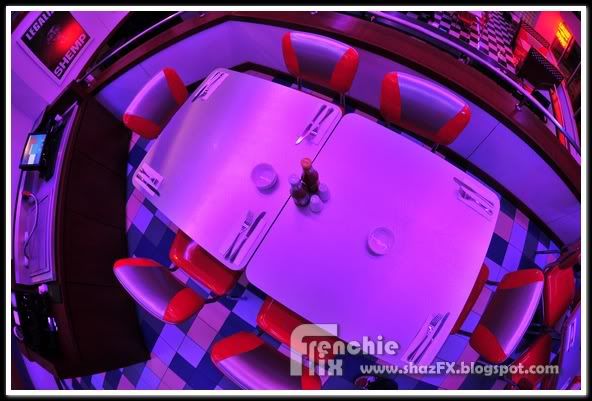 Looks very American indeed!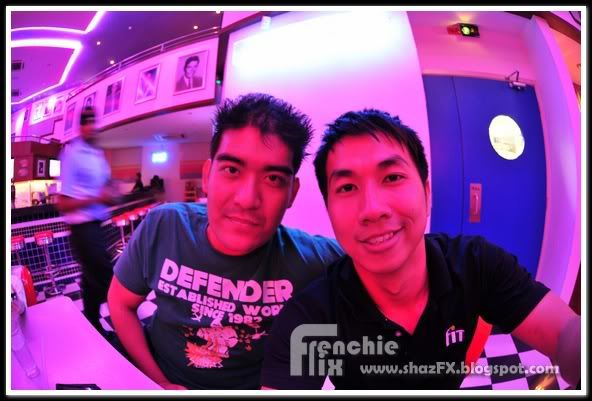 Gary and I - long time no see!!!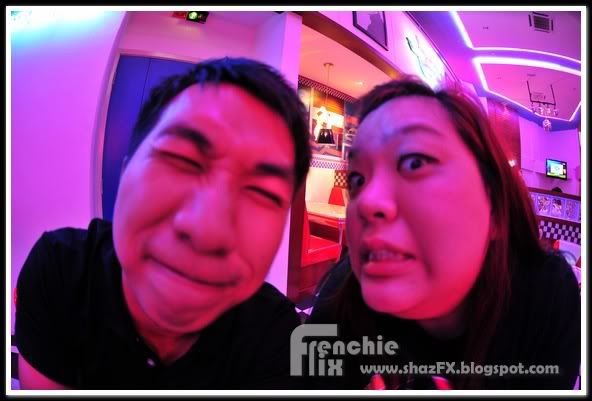 Gary and Sandra... PINK PANTHER'ish :P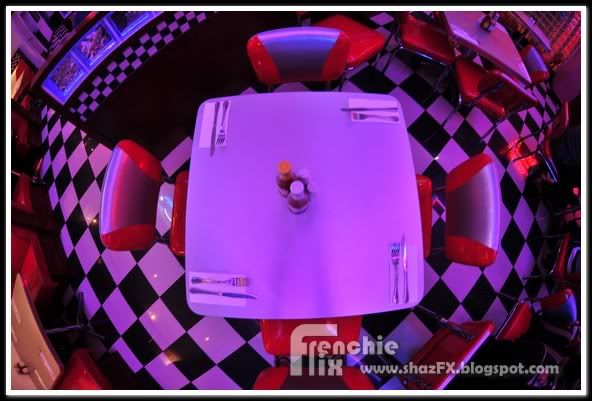 The seatings here comes in different arrangements from 2,4,6,10..
My Honey Glazed Chicken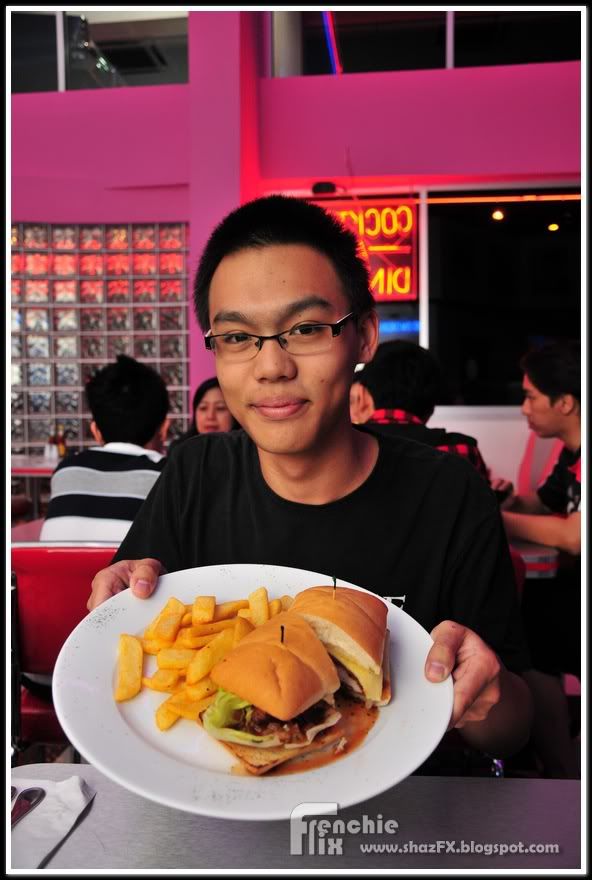 Aaron wasn't too happy with this!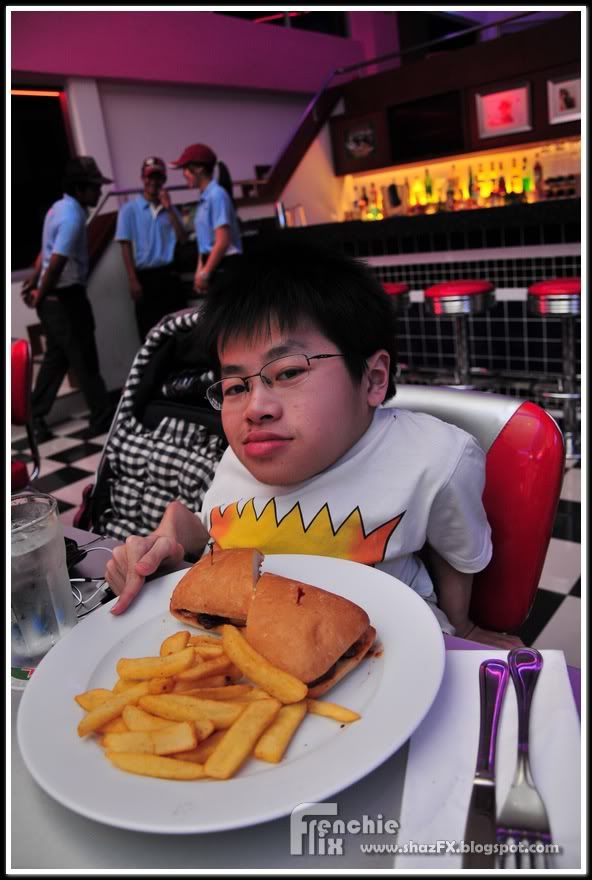 Thong Kai - as usual... anything oso can!
My Chicken is GOOOODDD..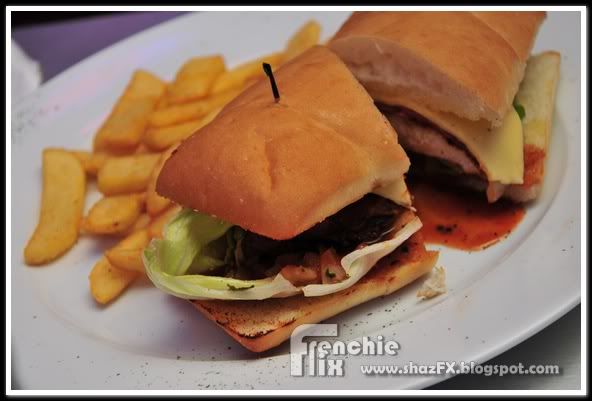 Time for plan B for Aaron!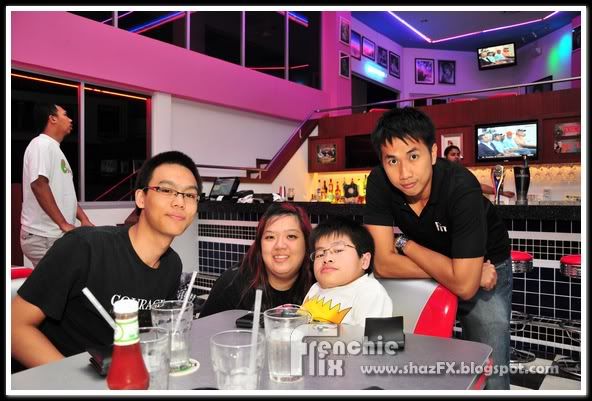 Group picca!!!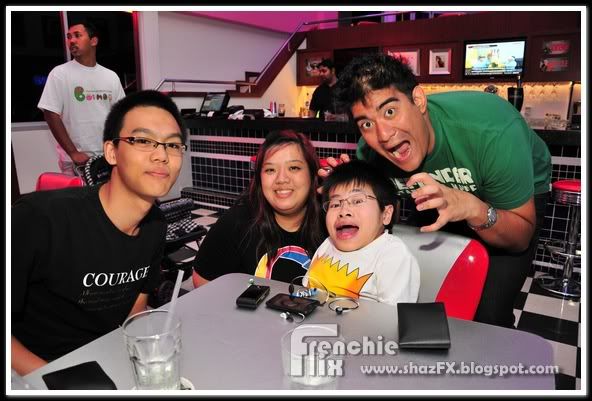 MONSTERS'inc Picca!
Restaurant Info / Details:
Tel: 03 8023 7229
Opening Hours: Weekdays 11am - 1am; Weekends 11am - 2am


Address: 55-A Ground floor,
Jalan USJ 10/1F
Subang Jaya (Taipan)
Environment: 8/10
Ambience: 8/10
Design: 8/10
Food: 5/10
Drinks: 7/10
Labels: American Diner, D'House, D'tour, DiGi Tour, Food in Taipan USJ, Good ol' Happy Days, USJ Taipan