K.S.H - Khairul, Suhaila & Hazlina
Wasssuppp Shaz:
Another great week just started! What made it even better was that its a long weekend! No traffic jam.. oh yea KSH Lawfirm FB page launch and looking forward to this weekend's D'Tour with DiGi at their Headquarters! So wait up and read up...
Was at K.S.H - Khairul, Suhail & Hazlina's Lawfirm Facebook Fan Page launch on Monday! I was a tad bit late but hey... i was there!!! Thx Khairul for the invite :) Really appreciate it! It is this kind of functions / events that i simply LOOVEEE going for! Its not the big events that has hundreds n thousands of people! Although it is a different thing.. but i prefer smaller events like this. And oh yeah... almost forgotten! Here at the event - you can meet / see people of all kinds of walks of life, different ethnics / races, ages and views. Exchange your thoughts, share your friendships and lookout for more!
Why... you may ask... (about smaller events / functions).
Well i love going for smaller events, you get to meet and know the people here! In bigger events you might just end up going there and taking photos of the events and leave without knowing anyone. This time around i got to know Rebecca of Advertlets, Jerine of K.S.H, Joanna, Dila's sister, Dila's parents, Hazlina and many many other new friends! One thing for sure... i got to know em and there's more TWTup events coming up our way to chillax over some LAMB (right Khairul!!!).
If you're ever in trouble... or just need some advocacy :P Heheheh check out K.S.H! Their detailss are as below! Its good to have a lawfirm that reaches out to you via social media... you can get to know them first before engaging them... this would perhaps be the next INN thing for those who are thinking of hiring lawyers for their companies / personal.
Talking bout D'Tour @ DiGi Headquarters this coming Saturday! I am really looking forward to it... another cool event! Especially getting to meet those behind the FB / Twitter of DiGi!!!
Hmmm some of you may ask what's up... or what's the diff between all these Telco's! Well each telco has their positive and negative points! I mean seriously... which company doesnt! You will see customers who are with Maxis they say its GOOD...some say its BAD just about everything! Its not that different with Celcom too! But... i've been keeping my eye on DiGi for the past year or so... my colleague who CALLS so much more than i do... his bill is so much more cheaper than mine! Anyways... he is on DiGi! And i'm on Maxis! Anyways... if you were to compare the services, call rates and etc upon all the Telcos that's available here in Malaysia... oh well there's so much to compare but one thing that you don't get from any other Telco is the GREAT service by DiGi! Their Customer service... reaches out to you... not just by phone or the net but by social media such as Twitter and Facebook.
Now that i have your attention and i know you want to know more about how they do it, and what they do... or what are they like! Well you gotta stay tuned to this blog here! As my next few updates will reveal all these :)
K.S.H - Khairul, Suhaila & Hazlina
12B-3, Jalan PJS 8/11, Dataran Mentari,
+60356300785
Group photo at K.S.H
Me, Khairul, Nani & Dila
Time for karaokeee!!
Nani & Evo (he took pics for their corporate profile shots!)
(Khairul & Nani)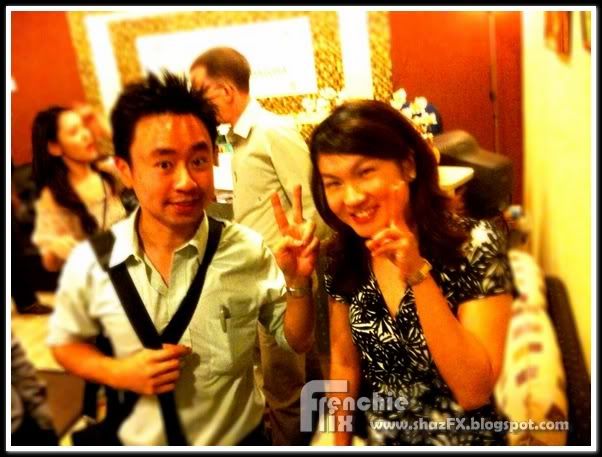 Eu Veng & Jone (formerly of Starbucks Coffee)
Last but not least... the funniest photo of the nite!!! Award goes to EVO!
Labels: Dila, Evo, Jone, K.S.H, K.S.H Facebook Fanpage Launch