CAMP 5 - Bring it on!!!
(Blog Update For 11th May 2009)
Some of you DOUBTED me that i can CLIMB ROCKS! Or for this matter... do some internal rock climbing with a belayer! Well...some others say because of me being so tall i can't really climb rocks and all!
Hahah... well guess what i can! i climbed to the top, i descended down... and i can belay others now! Yehh... When you wanna do something, you can do it if you focus your mind on it. Really it works - fear of heights, fear of other stuffs... its just the works in your mind that is playing that little trick on you.
Just want to share a passage i read from the book "The Alchemist" by Paulo Coelho:
"When you want something, all the universe conspires to help you achieve it,"
So yea - i really want to learn how to rock climb, i really want to get rid of my fear of heights! And here i am... i climbed up and sailed down! Thx to Patrick for teaching me everything i need to know about belaying and rock climbing. Now - you guys can come with me for rock climbing!
Come come let's go... i know Joel, Jed, ZJ Soon, Brian and a few others wanna go now that you guys have seen the photos! Hheheh.. prepare yourself - RESET YOUR LIMITZZ!
The high walls of Camp 5 @ One Utama


Ok that's me trying to tie an 8 knot! Can you???


Patrick ensuring his harness and everything else is working well b4 lifting me up for the climb!


Yesss u may think can this belay set hold me up there?


YEs can la... hehe!! Wow Patrick can really go all the way up!


Oh kay... now now! I can climb! what an achievement :)


The picture of the day - bro.. u shouldn't climb without the shoes n safety set on!


Ok - let's go for an excavation one of these days shall we?


Can you go up on this boulder?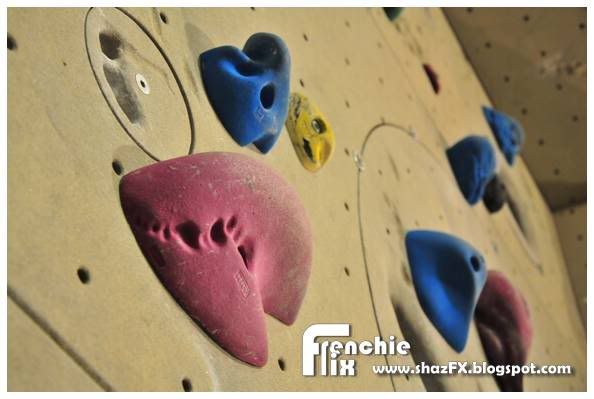 Bet not - wanna try out!? Come lets go one of these days...
Camp 5 @ One Utama
You can go for a taster sesstion - that's about RM45 or was it 55, i can't remember.
But if you know someone who can belay you - and is a pro belayer! Well you can go under them as a guest. If not - you're not allowed to climb on your own! As there are a few safety precautions.
Students - RM30
Harness + Shoes + 1 day entry
Adults - RM40 (if i am not mistaken)
Harness + Shoes + 1 day entry
Remember - you can opt to go shopping in between your climb! Hahah and go eat outside or eat in at Camp 5's own cafe :)
Labels: 1 Utama, 1Utama, CAMP 5, Camp5, One Utama, Rock Climbing