Admitted to a Hotel! (SJMC)
(Blog Update for 13th-14th May 2009)
Yes, as you may know... from my Facebook Status updates and all the photos you are about to see i am currently admitted to a hotel! Oops i meant hospital - Sime Darby Medical Centre in Subang Jaya (Previously SJMC). 
Great thing is - and stiill is that many of my friends who lives close or far came down to visit! Ahh... thank you all for coming! Really appreciate it :) Actually... nothing beats companions when you are hospitalised! You can have astro... in the room but hey WiFi is also great but friends visiting and bringing FOOD that i LOVE are AWESOME WEI!!!
Why did i chose SJMC? Well... i know its super far from where i live in Ampang. My friend XJ and Joseph who lives nearby me in Ampang asked... "ampang dun have hospital is it?"...
Hahaha.. well yes there's Gleneagles Ampang, Ampang Puteri Specialist Hospital and much more... but from what i know my friends told me that SJMC has Wi-Fi in their wards! Hahah... so here i am! :P
Here's a few thank you notes to those... (in order of appearances) :
- Thx to Chris Tock for coming with his Calvin! I mean his cousin Calvin :P And for making my room the noisiest of all! 
- Thx to Isaac for helping to buy some stuffs i needed! All the best in UCTI! 
- Thx to Grace for bringing me Breakfast :)
- Thx to Patrick for bringing me lunch from Kayu Nasi Kandar - one of my favourites!!! Thx bro for helpin to buy the contact lense solution oso!
- Thx to Wern Chiet, Chun Zhen, Pei Zhoung for coming in all the way!!! I know you guys are on a tight schedule in KL! 
- Thx to Terry for dropping by all the way from NTU! Hehehe...
- Thx to Joanna and Wei Juin for the Big Mac from McD's! Hehehe...
- Thx to Xian Jin and Joseph for going through all the rush hour traffic banjir madness from ampang to Subang Jaya!!! 
Anyways... enough of THANK YOU NOTES! :P Now let's move on to piccasss... Some are taken with my Nokia N95 8GB, some with D60 and etc's! Once again thank you all for coming from the bottom of my heart! Really appreciate the company.
p.s.: Yesss although i am in hospital, am still doing paperwork for work! Scripts and all for recordings! :P HEhehehe... am i a WORKAHOLIC or wat?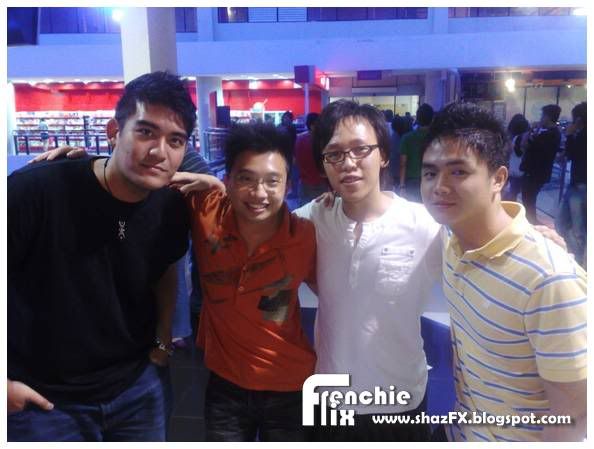 This was right after 12 of us watched the Premier Screening of Angels & Daemons @ 1U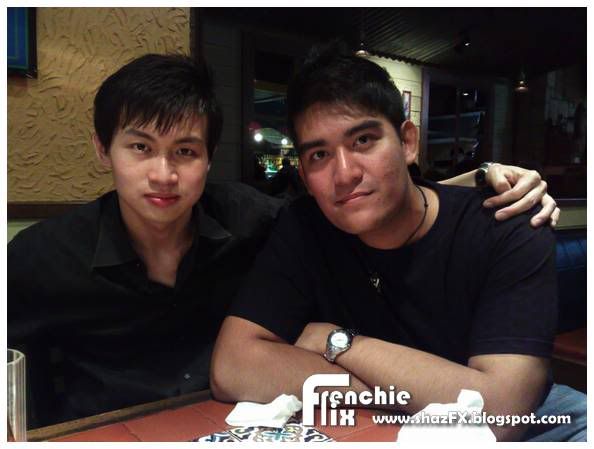 Had dinner with Brian, Patrick, Wern Chiet and all at Chili's - Brian just came back from USA!


Grace my 'pumpkin' Hahaha!! Came to visit me first thing with some...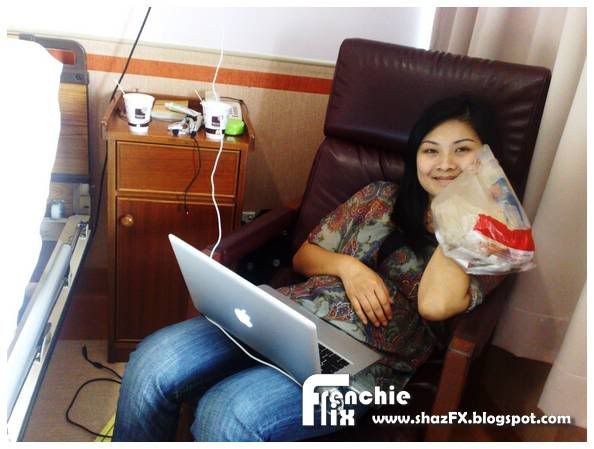 My favourite breakfast! :) Hahaha... Filet o' Fish & hash browns.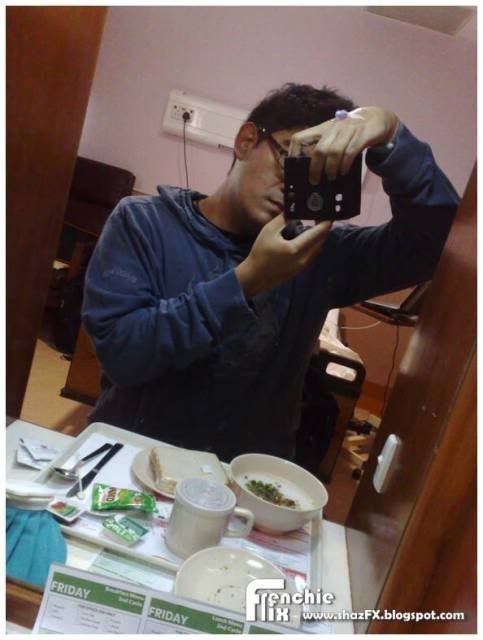 Hospital breakfast didn't make it to my appetite!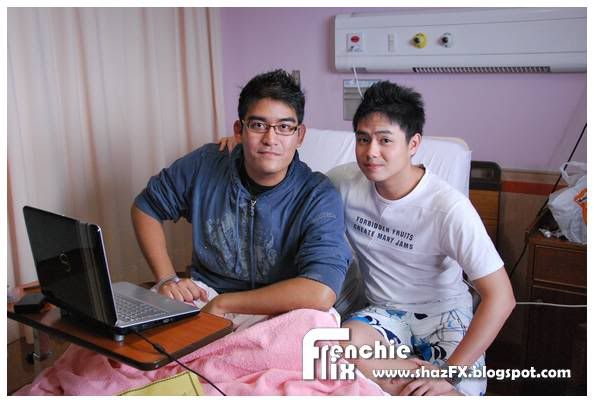 Patrick came over to visit on the day and as usual... i was really HUNGRY!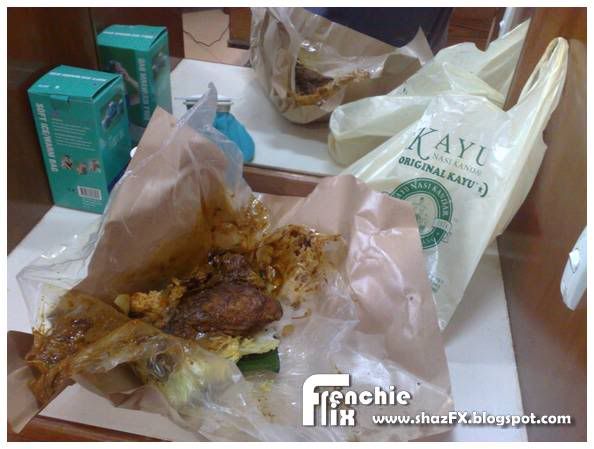 Brought my favourite Kayu Nasi Kandar...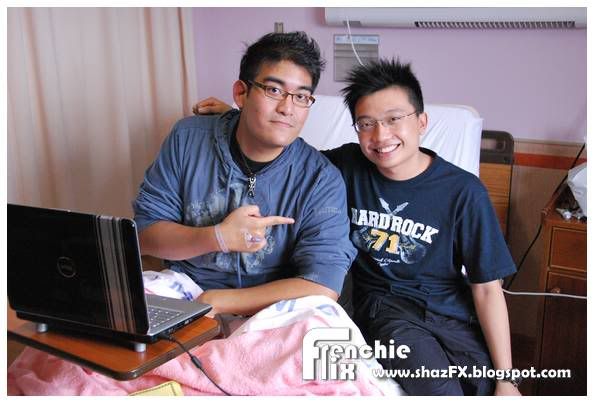 Wern Chiet also came... hahah WC got new hairstyle YO!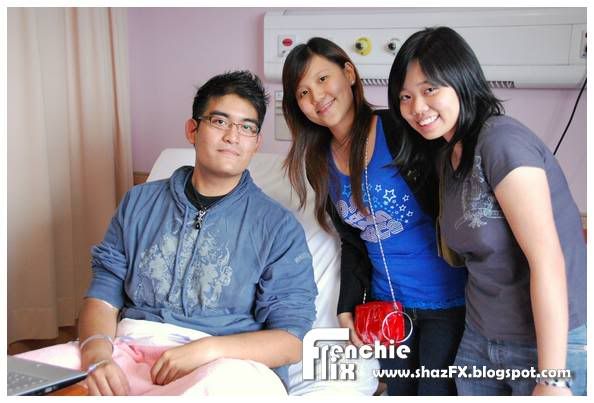 Pei Zhoung & Chun Zhen :) Thx for comin over!!!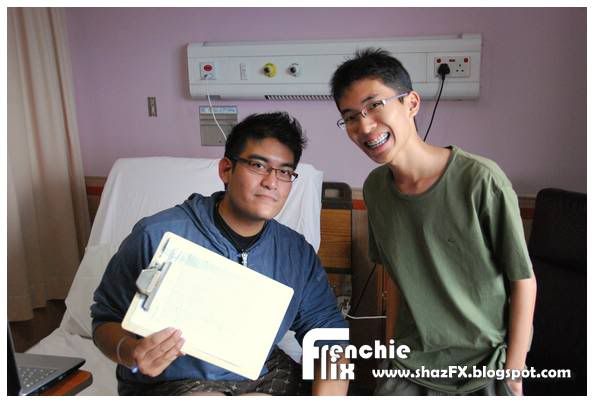 Apparently Terry came around the same time too!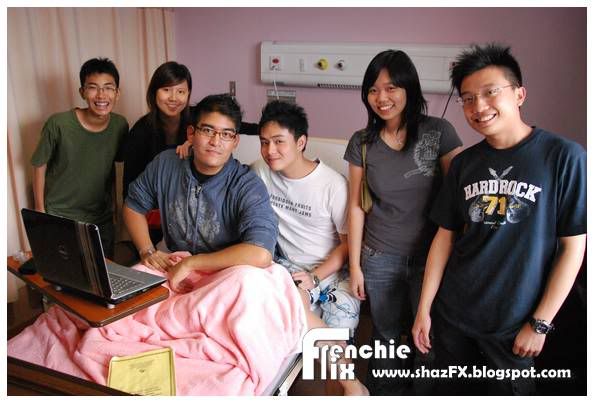 Group photo... my ward room was so CROWDED! Ahh i shoulda gotten the Executive room!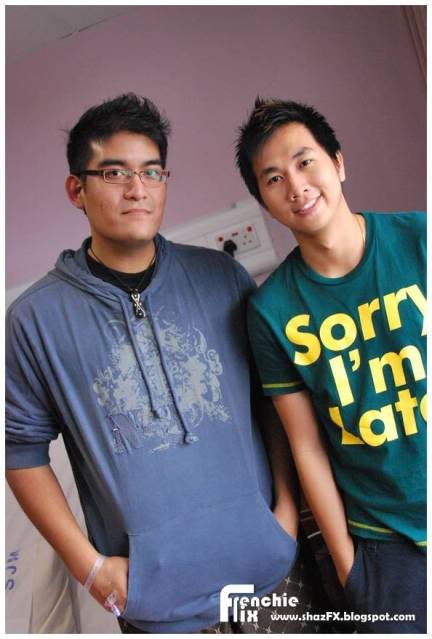 Ah Gary came too.. and he was LATE!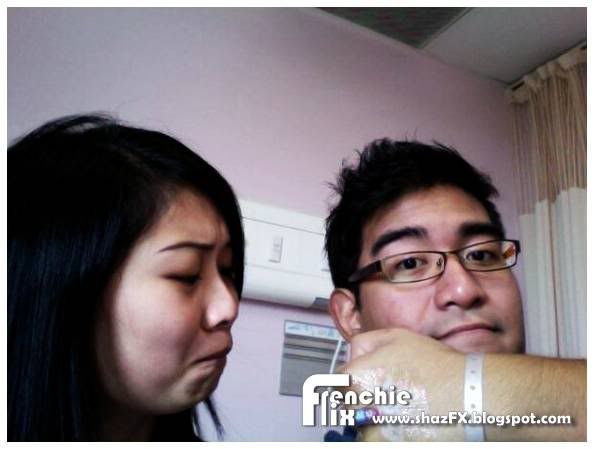 Grace lookin over at my WOLVERINE fangs! :P


Cryo Cuffs for me leg!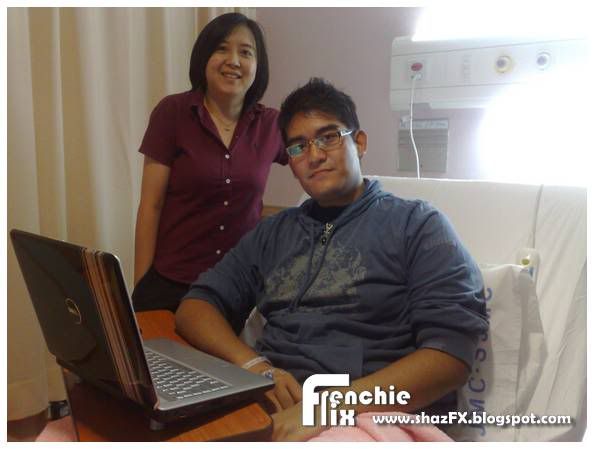 Joanna - the one who asked me to go to Sg. Chilling, Melaka, PD and all.. i've been too busy to go to all those places but we ended up meeting up here! :P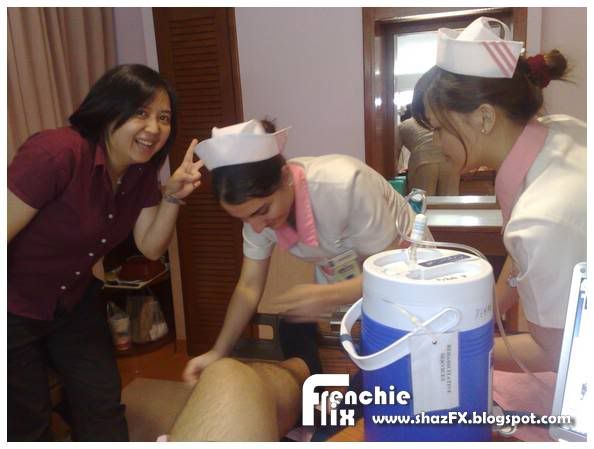 They were applying the CRYO CUFFS on me! damnn its so COLD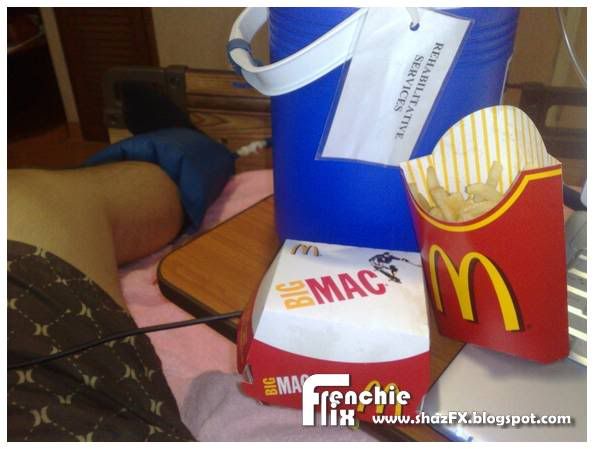 But Joanna brought McD's for me! HEHEHEH...


Chris Tock came oso! Hahaha...


No i wasn't shouting or anything!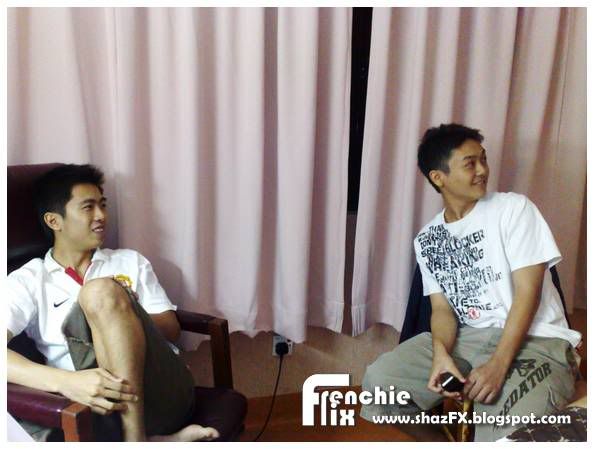 From as far as Ampang and Bukit Antarabangsa - Xian Jin and Joseph came!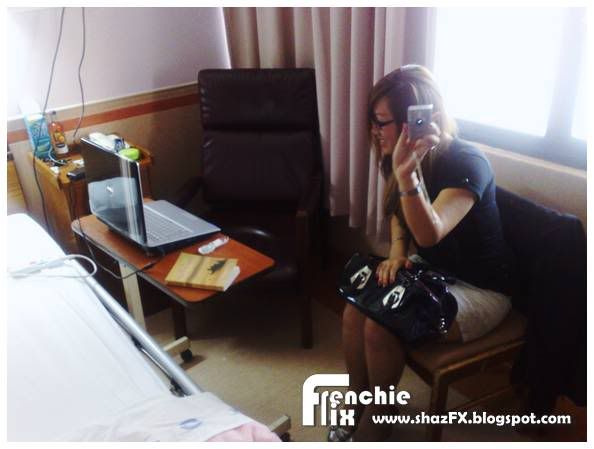 Look who came... Phoebe!!! See ya in BALI :)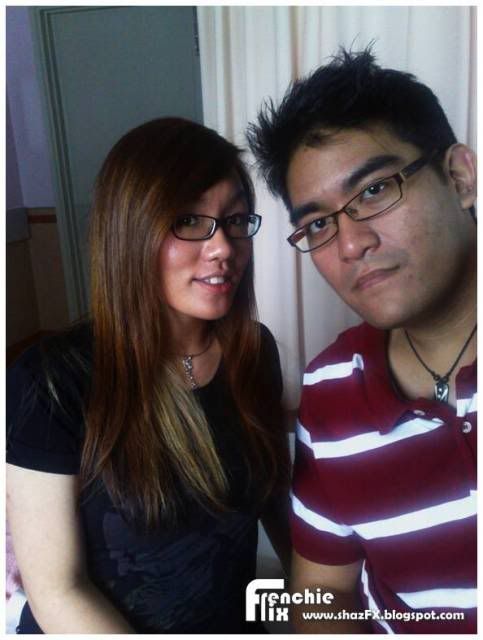 Btw - thx for the McD's - Spicy Chicken McDeluxe! :)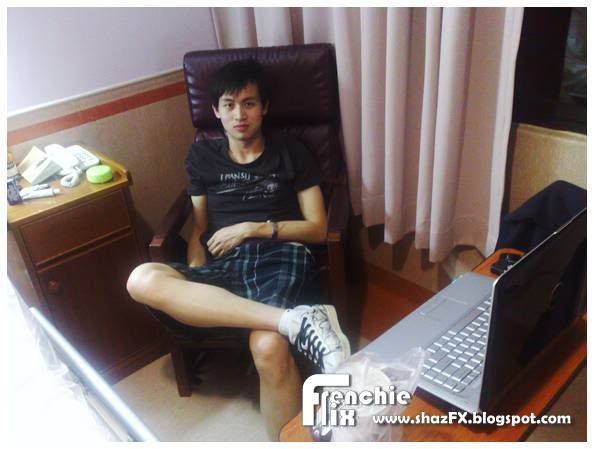 Brian came over with some KFC's! Hahah.. dude... u gonna make me FAT!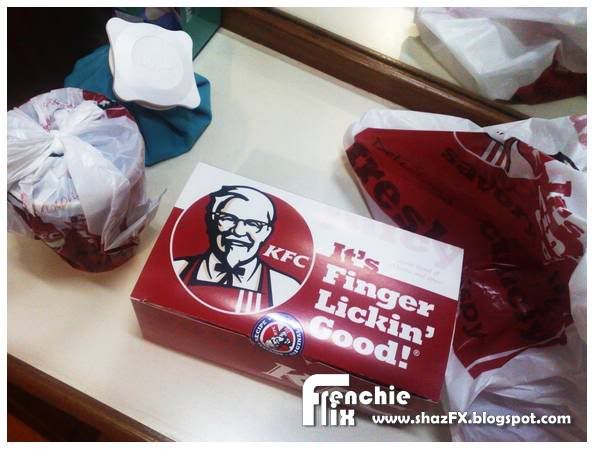 But oh well.. thx Brian! It's finger lickin' good!


And terry came over to drop by some Esprit drink and a Banana Cake! Whee... iim EATING IT!
Labels: Cellulitis, Friends Visiting, Hospitalisation, SJMC