Be Charitable, YOUR HELP goes a LOOOONG Way!!!
Hello there... yeah, this time around i'm not gonna start my blog update with Wasssuppp Shaz: Oops, i think i just did!
Recently 2 of our state were flooded with water due to heavy rain! Kedah & Perlis were affected... and there are alot of Malaysians out there who are without proper food and daily amenities.
This is the time that we as ONE MALAYSIA - no matter who we are, we become ONE and help one another! Recently, an effort done by AMP Radio Networks - consisting of 9 Radio Stations within the company (*Yours Truly is with XFM under the same umbrella), we organised a weekend at THE CURVE with Persatuan Bulan Sabit Merah Malaysia to drive charity donations of daily amenities and clothes to be sent to the victims of the recent flood in Kedah & Perlis.
Radio Announcers from all the radio stations under AMP Radio Networks (hitz.fm, MixFM, era FM, MyFM, LiteFM, XFM, THR Raaga, THR Gegar and Sinar FM) took part in this charitable event, dedicating their weekend to be there with listeners who are bringing the goods!
Yes, we heavily promoted the event ON AIR and announcers uses the power of Social Media too to spread the info via Twitter & Facebook. It was just simply AWESOME to have seen many people from all walks of life... even FOREIGNERS / EXPATS who are residing in Kuala Lumpur drove all the way to donate clothes, boxes of drinking water, and other daily amenities.
Yes, i felt so... HAPPY seeing this happen for REAL! Yes, people from ALL WALKS of LIFE donated a whole lot on this day. Keep this up because we are ONE MALAYSIA.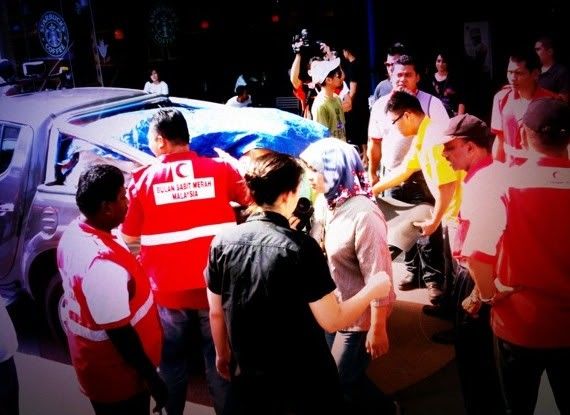 THE CURVE - #KPRelief
Announcers from AMP Radio Networks
1BANGSA - 1SUARA - 1NADA -1IRAMA
1MALAYSIA
Labels: Donation Drive Malaysia Radio, Flood Kedah Perlis, KP Relief, The Curve