NAGOMI: Japanese Restaurant (Jaya 33 / Menara Hap Seng)
WASABI:
Wasssupppp... this reminds me of that cartoon... i forgot what was it called but it goes something like Wasssuppp.. WAssupppp... Wasssuppp then BANG!!! U dead... LoL.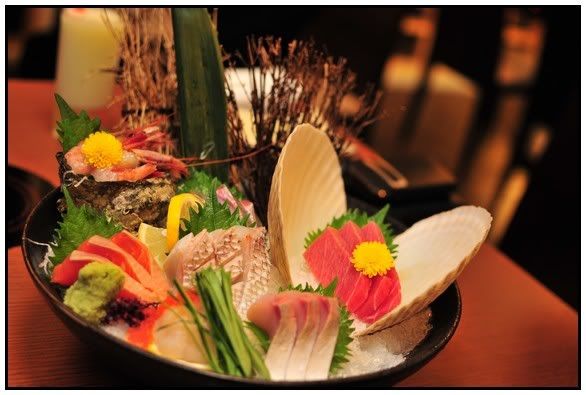 On a happier note, if you think you've tasted real wasabi at those other Japanese restaurant in malls... well no, those are the cheaper version of wasabi. The best, real... authentic Wasabi is those that you find in some hotels, fine dining restaurants and of course this high-end Japanese Restaurant called NAGOMI.
Enjoy Japanese d'lish from NAGOMI at Menara Hap Seng Kuala Lumpur (used to be Mui Plaza opposite Jln. P. Ramlee, behind Hap Seng Star Mercedes Showroom) and also at Jaya 33 in Petaling Jaya.
Check-out Nagomi coz they not only serve you real WASABI but some of the freshest sashimi and other Japanese delicacies in town!
6 of us had dinner at Nagomi in Jaya 33 a while ago... and we had some of the sumptuous dinner we ever had. I previously thought that this Japanese restaurant in The Gardens Mall actually serves the best in Everything Japan had to offer.
Well, i thought wrong! There are other Japanese Restaurants in HOTELS like Shang-Ri La KL with Zipangu that has amazing Japanese food served to you! But, in actual fact NAGOMI too has a great variety and serves a wider variety.
The great thing about NAGOMI is that their menu always evolve! They offer new dishes every now and then... but maintain the strictest quality. This is made possible with some of their re-known Chef's that's in place both at Nagomi Menara Hap Seng and Jaya 33.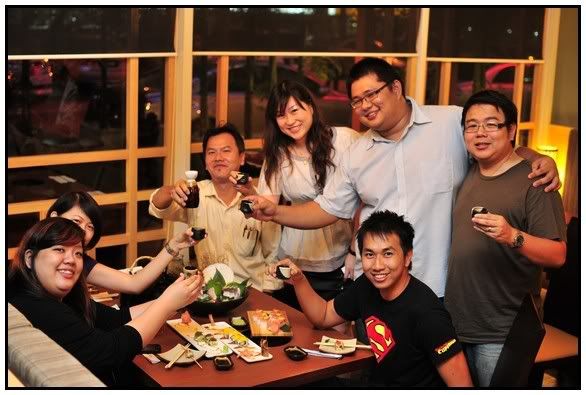 Enough with the bla-bla'ing!!! I know you just can't wait to see the photos!!!
Hopefully... you've had your dinner! Coz i haven't :)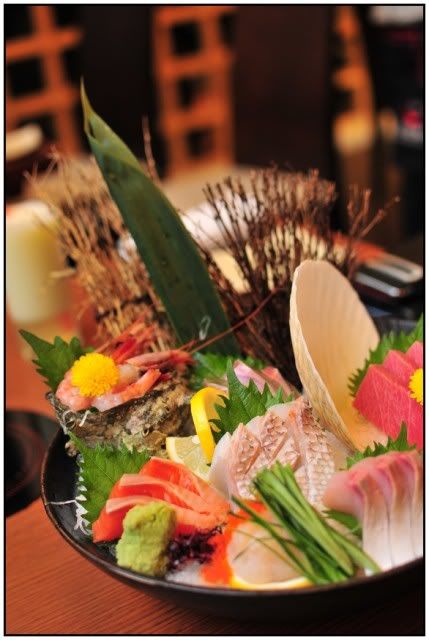 Sakura Sashimi Moriawase
(RM128), served in a big bowl of shaved ice. There were seven different types of seafoods and each type comes in three. For those who are on a tighter budget, there's Ayame Shashimi Moriawase for RM60; which has five different types and also comes in three pieces each.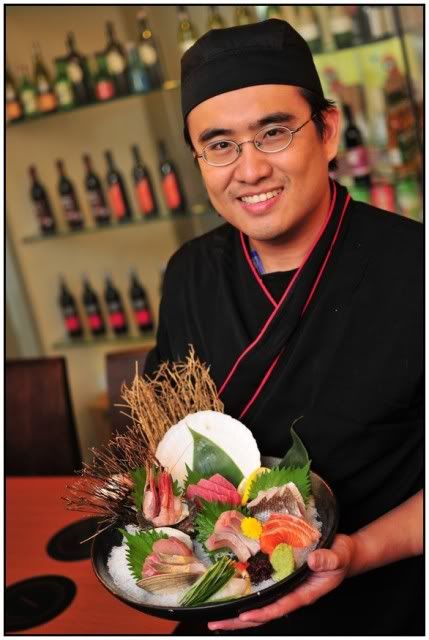 One of the CHEF's at Nagomi...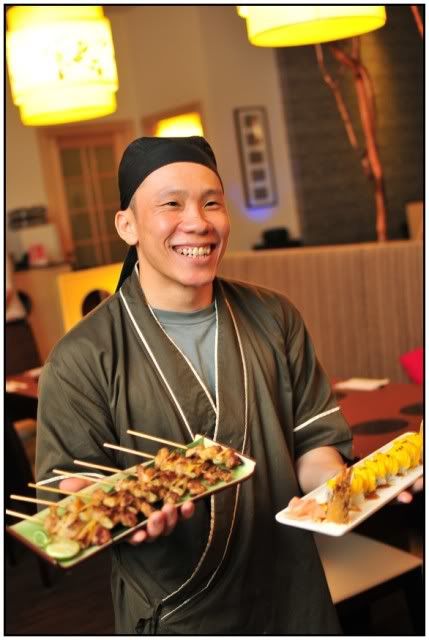 Another CHEF at NAGOMI...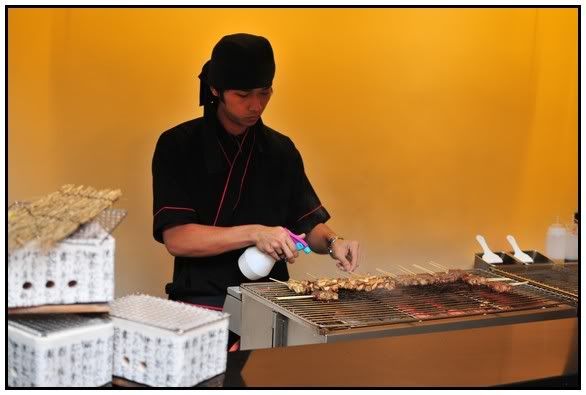 This is one of the COOK's at NAGOMI doing the skewers...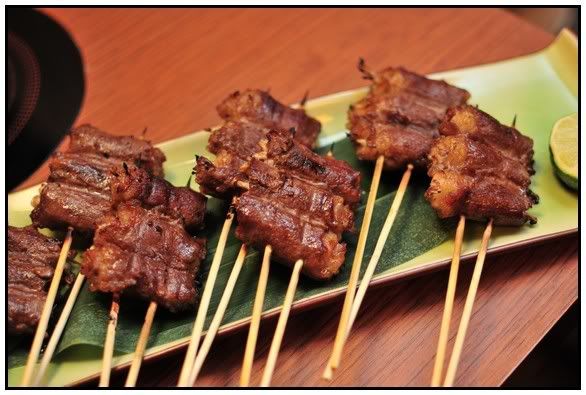 Here's the outcome of it... Gyu (RM12) or in plain English, cubed beef. Do remind the waitress how you like your beef to be cooked and I recommend you to choose medium as the beef could be really chewy and lose its flavour and juiciness when cooked to well done.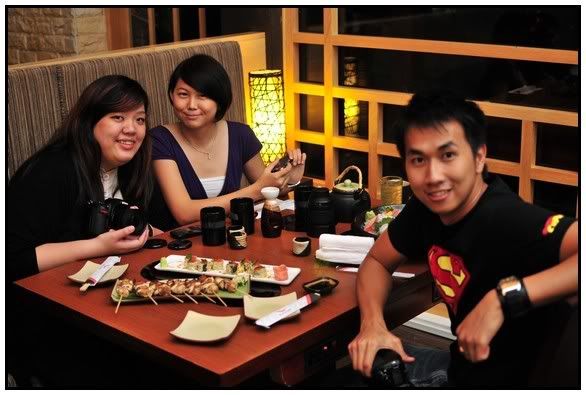 Halfway through... we have more and more food to go!!!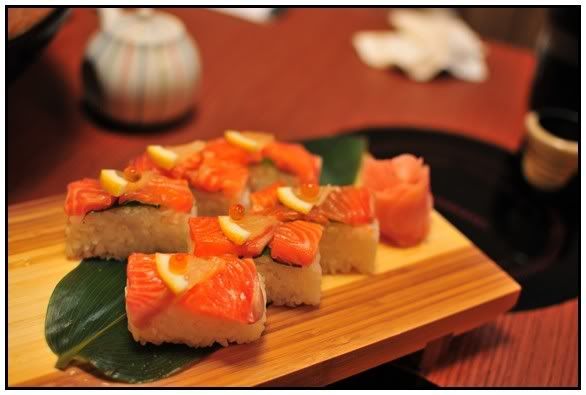 There are a whole lot variations/ingredients under the kushiyaki/barbecue section, such as capsicum, quail egg, tomato, scallop, asparagus, salmon, chicken wing, white button mushroom, black mushroom, beef tongue (I know!), ladies finger, cubed beef and etc. The price ranges from RM3 to RM12 and each order comes with two sticks.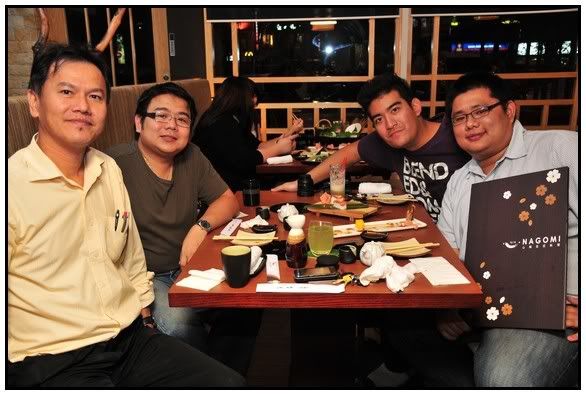 Was there for dinner with Wilson & Jason Mumbles on this table with our friend from NAGOMI.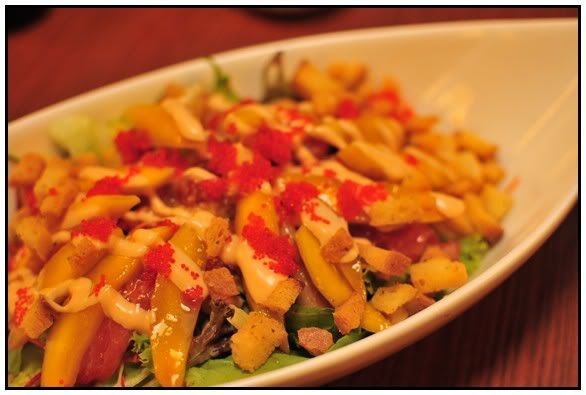 First up was Mango Salad (RM28) with salmon sashimi, mind you. The combination ofhome restaurant chef made sourish dressing and sweet mangoes made the salad a perfect appetizer in opening up your appetite for the feast later on. The little croûtons, fresh lettuces, crab sticks and fish roes added extra texture and flavour to the dish.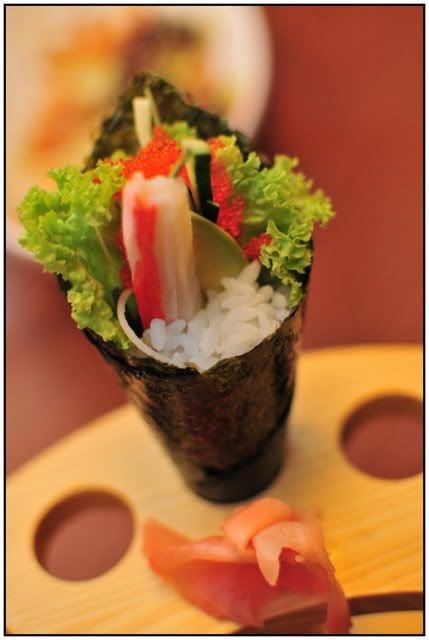 California Roll here is awesome!!! You should really try it, the seaweed used here to wrap it up and the rice has made a significant change in not just the flavor, taste but also texture to it.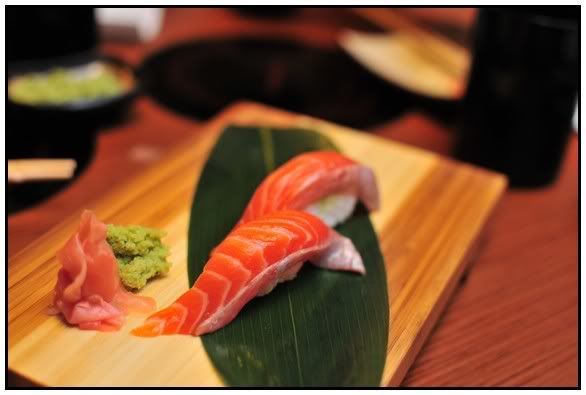 Still hungry... we ordered this and more more more food!!!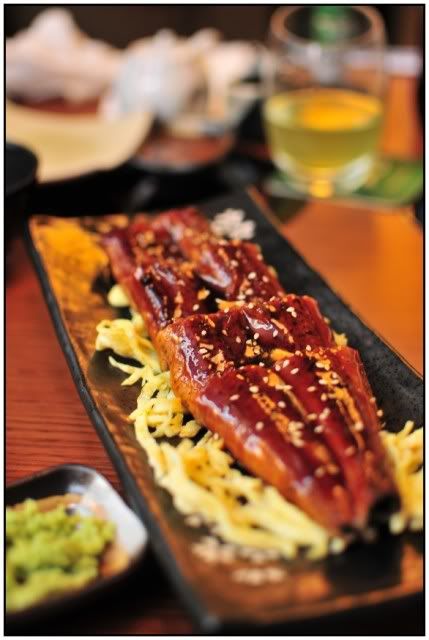 No Japanese meal (of mine) is complete unless a slice of perfectly cooked and glazed Unagi Kabayaki (RM30) is present. I like how they used fried eggs as garnishing; both colors are in contrast with each other.
While there were only four slices on the plate, each slice was rather big and thick. Unlike the cheaper unagis out there which tend to be powdery, the one I had at Nagomi was firm, succulent and sweet. Yums!


We had two different salmon steaks, the first picture was teppanyaki styled (RM26) while the second picture was sake shioyaki (RM19) or salt baked salmon. I couldn't tell the difference between the two. Apart from cooking style, could it be different parts of the fish were used? I doubt so but both fresh salmons were cooked till perfection and had the melt-in-your-mouth liked texture.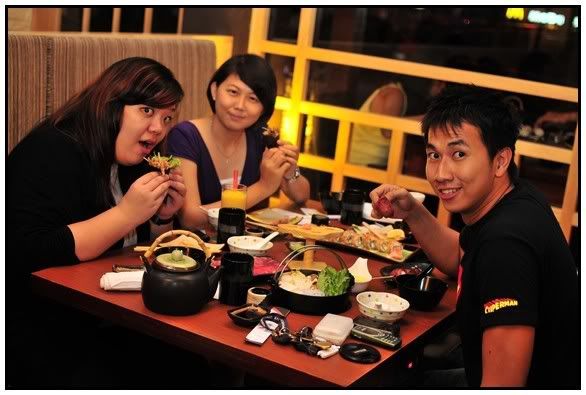 Still hungry... okay we all have BOTTOMLESS pit stomach!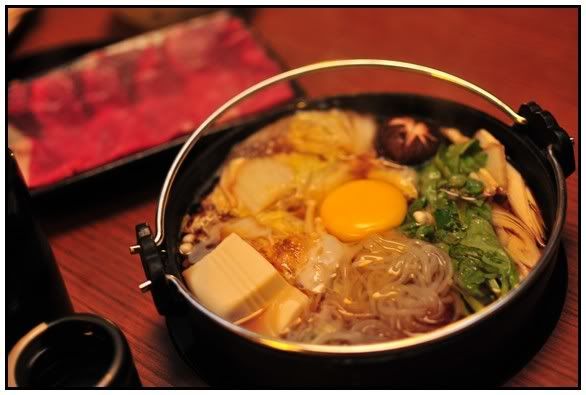 We also had Gyu Sukiyaki where we got to cook really thin beef slices in a shallow iron pot containing soup/broth mixed using soy sauce, sugar and mirin and ingredients like mushrooms, vegetables and tofus. The cooked beef slices were then dipped in a bowl of raw beaten eggs before being consumed.
Thanks to Jason Mumbles (above) for the text in some of the pictures above, explaining how each and every dish tasted! I strictly agree to his reasoning! I would rather explain all these in my own words... but Jason knows it best.
This is BEEF TONGUE... yes. Comes with a pre-heated hot plate where you will have to cook it yourself with seasoning given in the smaller bowl.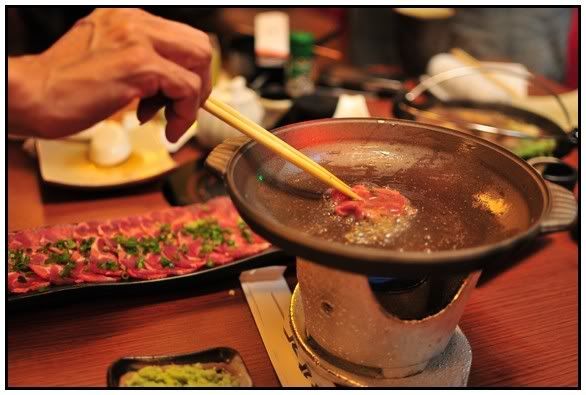 Move it around when you cook the beef tongue, turn it around from one side to the other to ensure that both side is cooked.
Of course, cooking with a friend is better. Some says it tastes better too :)
This is our friend from NAGOMI :) Thank you for all your help!!!
I kinda forgotten what this roll is called but its gorgeously presented with a myriad of colors!!! Tastes exquisite... so different than any other rolls i've tasted.
Garlic Fried Rice - yes, for a greater experience at NAGOMI, you get to cook your very own Fried Rice or they will cook it for you in front of you :)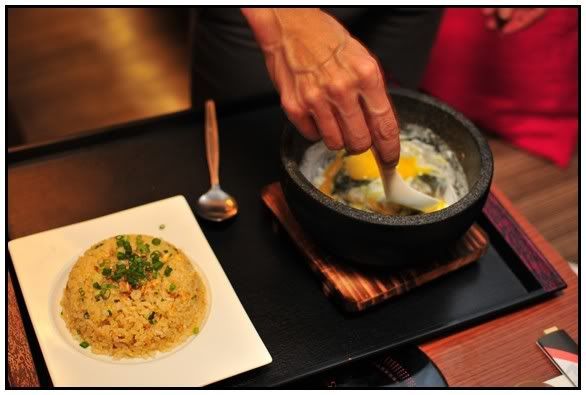 Pour in the egg first... stir it around as if you're making scrambled egg.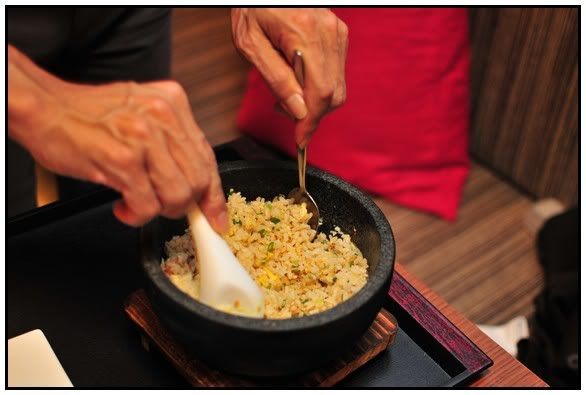 Pour in the RICE, the hot bowl is hot enough to cook the egg and mixed with rice.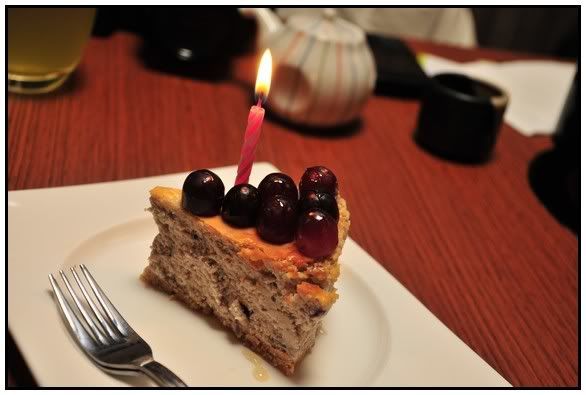 Here comes the Birthday CAKE!!! HAPPY BIRTHDAY :)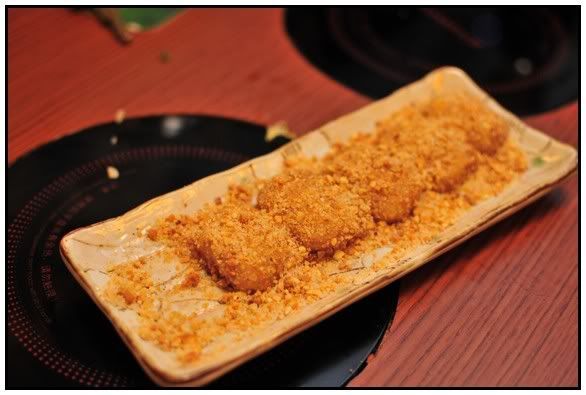 Mochi - Heavenly... haven't tasted Mochi this good other than those my friends brought back from Japan. If you are a MOCHI fan... please please please try this out! I assure you its AWESOME.
The Abekawa Mochi (RM13) was pretty good too, with loads of crushed peanuts (I prefer crushed over powdered ones.), sugar and something else that I couldn't really pin point what it was. The mochi, served warm, didn't stick to my teeth like others did too.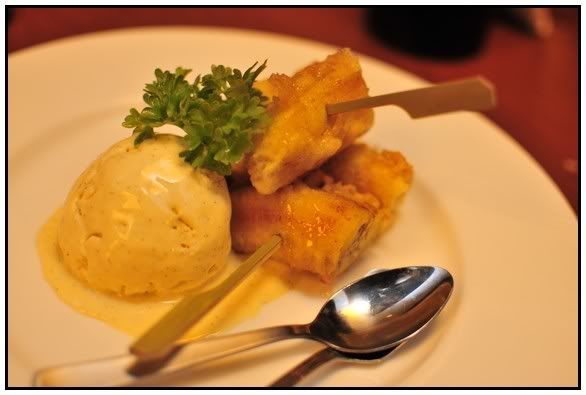 Pisang Goreng with Ice Cream... this is a must try too!!!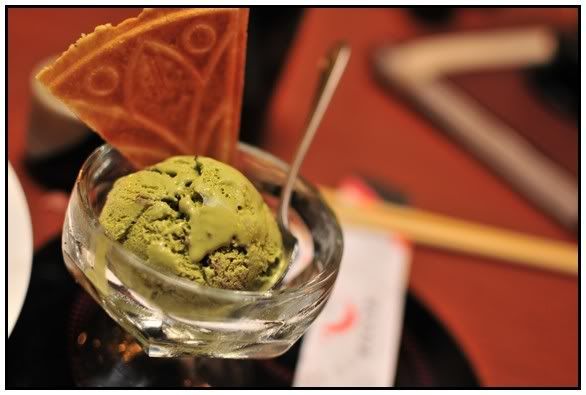 Green Tea Ice-Cream, i LOVE IT!!! You can taste and smell the grenn tea in this!
NAGOMI, you're the best!!! Keep up the good work in delivering great Japanese food :)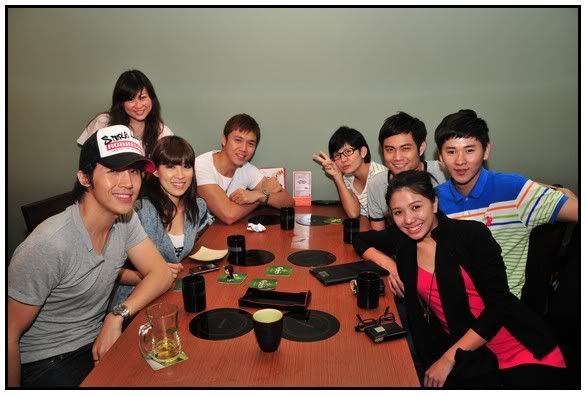 Met up with some friends from the industry having dinner here too :)
Labels: Japanese Dining in Kuala Lumpur, Japanese KL, Japanese Restaurant, Japanese Restaurant Kuala Lumpur, Nagomi, Nagomi Jaya 33, Nagomi Menara Hap Seng