Happy Birthday: I'm the King of Bullsh*t
Wasssuppp Shaz:
Evo (his real name is Eu Veng Ooi so yea juz call him Evo) juz came back from Hong Kong if i'm not mistaken! (and if at this point you're still asking why Evo his name is... grr nevermind!). A lil' present for friends he brought back are magnets which depicts your true personality from what he knows u as... so he bought for me...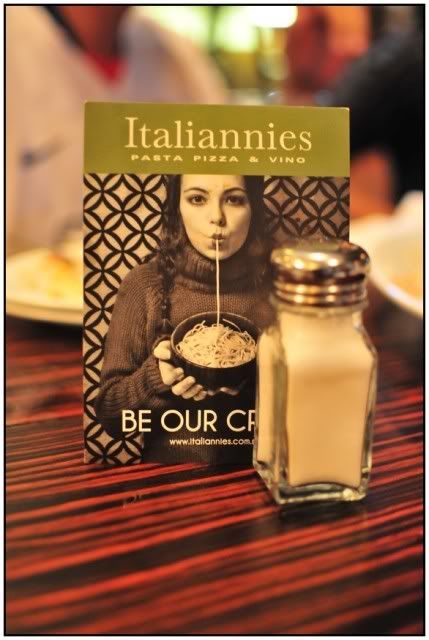 NOT
No, he didn't get me this postcard... T'was already there...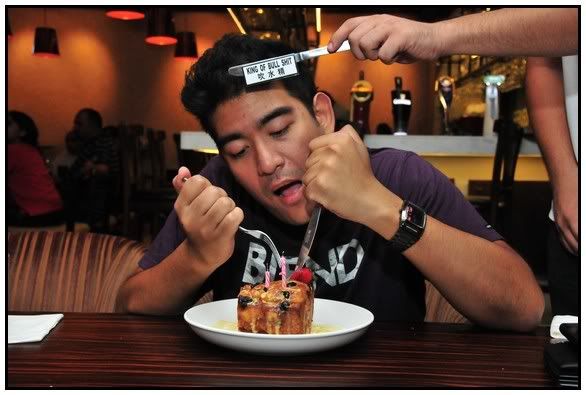 Now that we've got all that done with... back to my Birthday Celebration! There are a few other small ones that i didn't manage to post it up here coz i didn't lug around my heavy dSLR around to capture the moments, but rest assured the memories, the joy, the great companion moments still is something that i can remember for life!
This King of Bullshit has to say today is... Come on over to Italiannies, eat & be merry :)
The food here is much much better than any other Italiannies i've come across. Other Italiannies standards drops, not so sure why... maybe it's due to the management of each restaurant... those who don't give a shit or those who really caters to the specific needs of the clientele.
Well, if you've ever had a bad experience at other Italiannies, you MUST give it a try at Italiannies Empire Gallery. If the food you had is not up to your standards, give a shout out to them. But i assure you, for the month of July and August, i was there almost every Saturday and Sunday of the week.
Does that make me the ultimate Italiannies fan, well its also because of their LIVE Band Stage performance i'm there for and the ambience is just so good to celebrate my Birthday.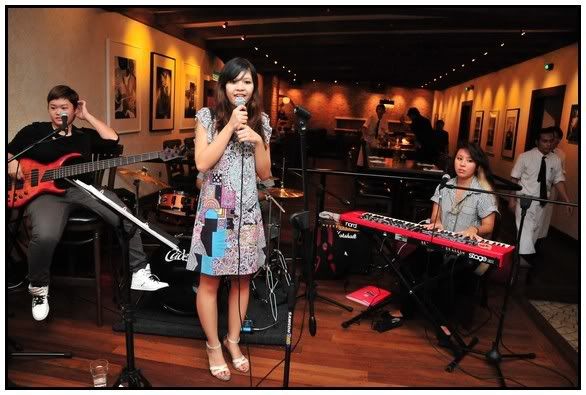 Talking about performance & reviews - i did celebrate my birthday at Italiannies but the one at The Gardens, food was bad - service was good, overall i would only come here for drinks and light refreshments only. Empire Gallery on the other hand... check it out! I can't stress it out more here... but my friends has tried it, they LOVED it!
This time around, i went for dinner with another bunch of friends, they are Evo, Marianne, Judith, Richard, Jon Ming - oh yea... Hanie stopped by too! As always, had a great time with my bunch of friends which most of them get well along with one another. So no problems there to just invite 1 friend from each sector of life.
Y'all are great :) Thx for being in my life...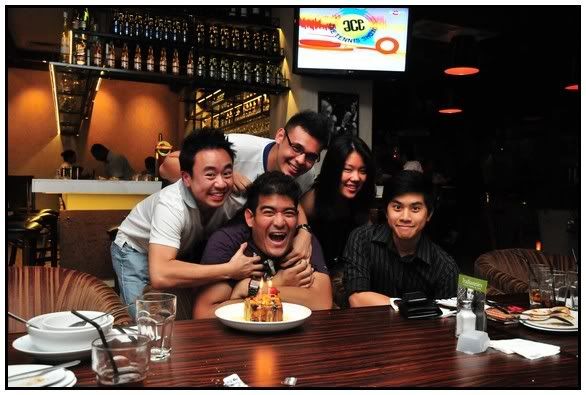 OH NOES... call the cops PLZ!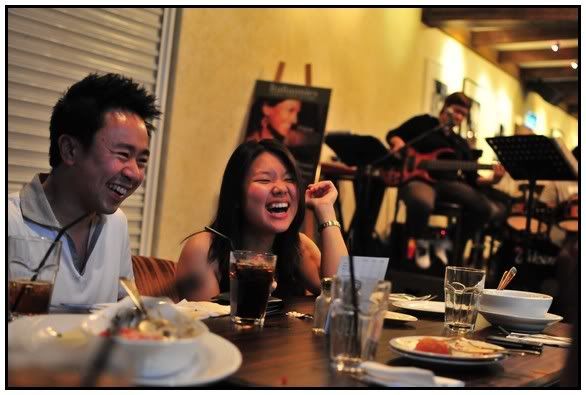 Probably both Evo & Marianne are laughing at one of my Bull Craps!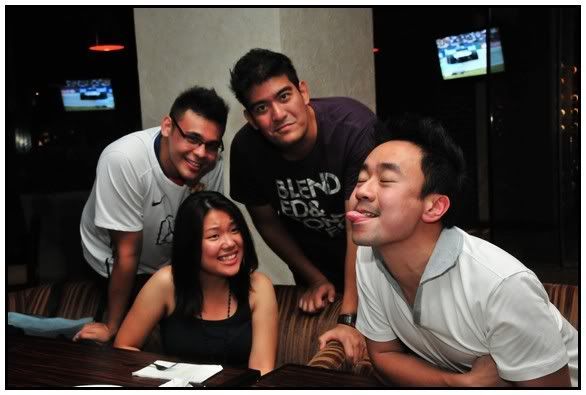 Oh there he goes again trying to be lickerish! :P
Hanie Hidayah was dining with her family here! SUPERTAR...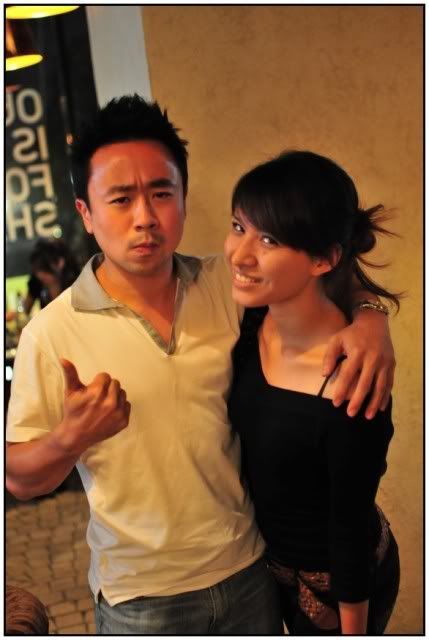 Evo... so close la U 2! Hehehe tell Selena later... :P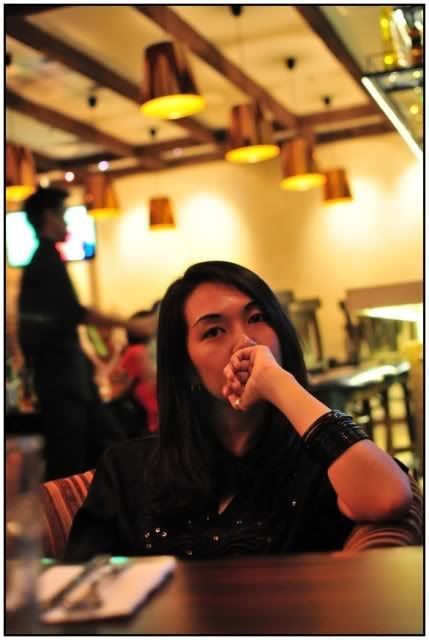 Judith - PEEK-A-BOO... ( oh no, she so serious! )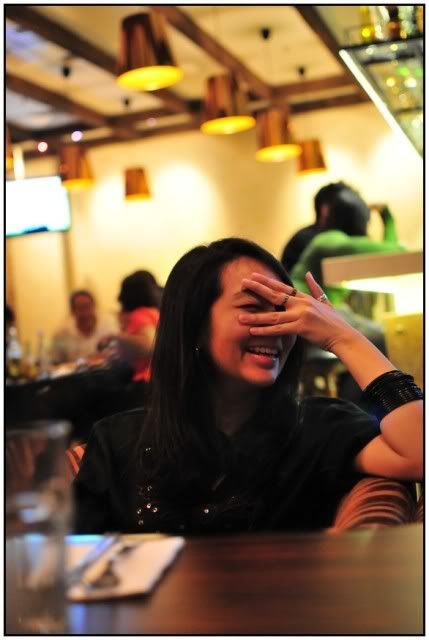 Wakakkkakak... (It's crazy how people react to voices & text)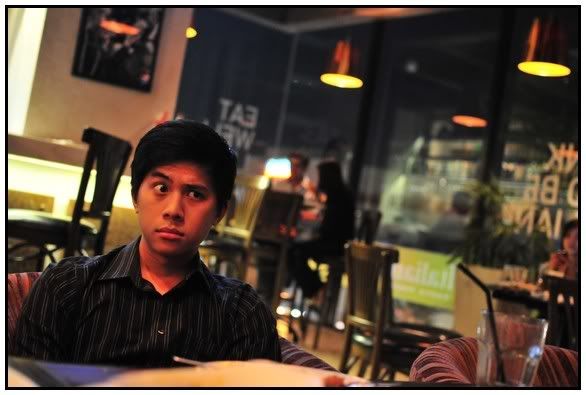 Jon Ming... he's like ( oh no, i need the mental asylum now!!!)
Labels: 2010 Birthday Celebration, Italiannies, Italiannies Empire Gallery, Shaz 27th Birthday Celebration