Hilton KL: Zeta Bar (Life, art, Food!)
Wasssuppp Shaz:
My friends birthdays... if you have a look on your Facebook - there's at least 1 friend B'day everyday... well that's what i encounter... sometimes even 3-5-10 B'days a day! Hahahah... Anyways for this month of Feb i wanna wish Happy Belated B'day to Lex, Philip, John and all the others that's too many to name for now. HAPPY BIRTHDAY!
On the other hand... recently i went to Zeta Bar @ Hilton KL for some chillax'ing session with a few friends and there was this new band that was all out to perform for the crowd. They are none other than "Xpress Band". From what i read.... they made their debut energetic performance from 1st Feb and will be here throughout the month till 30th April.
I've been to a whole lot of gigs & live band performances in and around town... (Laundry, Library & few places at Changkat Bukit Bintang with TimeOUTKL), but this one was OUT OF THE WORLD!!! (not because they are all ang mo's...) but they are really ENERGETIC and they groove your way to the dance floor with their extensive genre of music performance!
Xpress Band - a tad bit bout them... Google'd them and found out that they performed in Bangkok, Singapore and Taipei previously... and these guys originated from a mixture of nations such as Colombia, Canada, US and there's 7 of them altogether!
Are they all newbies or oldies... hahaha well there's a mixture of them really... that's what makes them so GOOD that YOU just have to see them for yourself! (no... i ain't doing no publicity shit here but honestly speaking i was amazed by their energy). Usually i head down to Alexis at Great Eastern Mall for their performances (mostly Jazz)... but Xpress Band really rawked my night!
On this night, they performed a mixture of classic and current hits, R&B and dance music... their mixture and the talents of these fine young Musicians are just too good to be true. One thing i really have to tell you guys... i listened to their performance... i really thought that it was the REAL band that was singing those HIT singles! But no... it's Xpress Band!
Zeta Bar - KL's #1 loounge bar - bar none. With a unique Euro-Asian "soul"... Opens Monday-Saturday. If you are coming over solely to enjoy Xpress BAND LIVE performance... here's their schedule:
Monday-Fridays & Saturdays: 10.15PM - 1.15AM
Tuesdays & Wednesdays - 9.30PM - 1.15AM
Thursdays - 9.30PM - 2AM
(Zeta Bar is Closed on Sundays).
For Reservation - +603 2264 2592 / 2696 (www.kl-studio.com)
Friends, friends, friends... Charlie - Eric - Bel - Jean etc...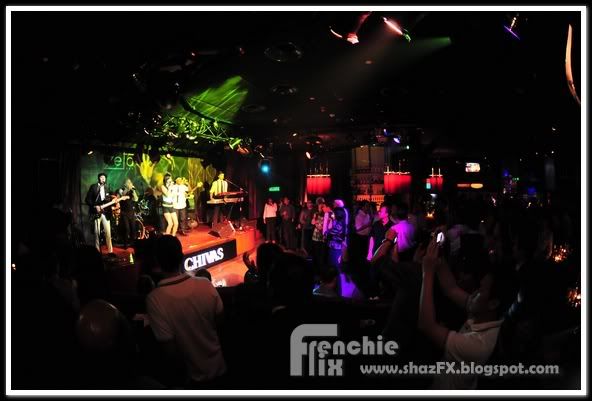 There was quite a number of audiences tonight!
Some people are still very much SHY to showthemselves eh!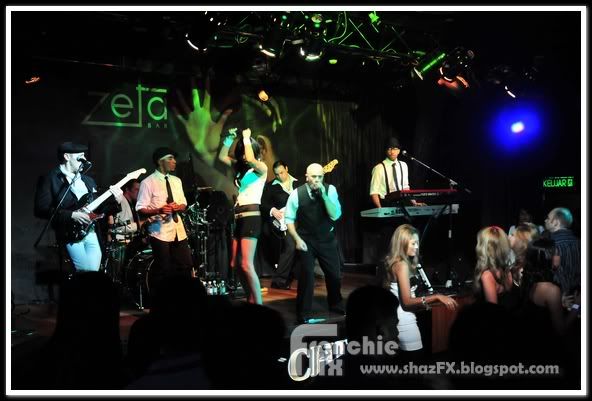 They sound so ALIVE and so LIKE the original band!
C'mon... fill up the dance floor... don't be shy Malaysians! :P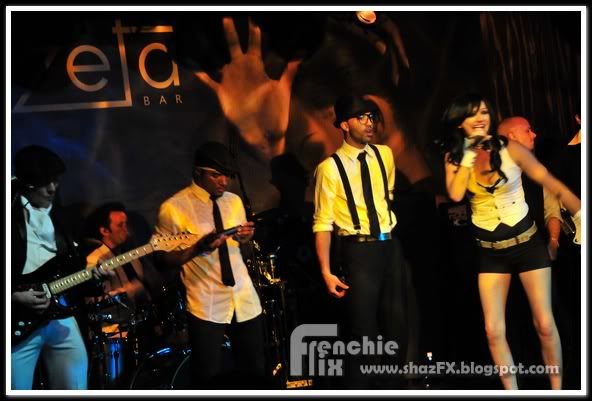 The girl... she's so so so COOL!!!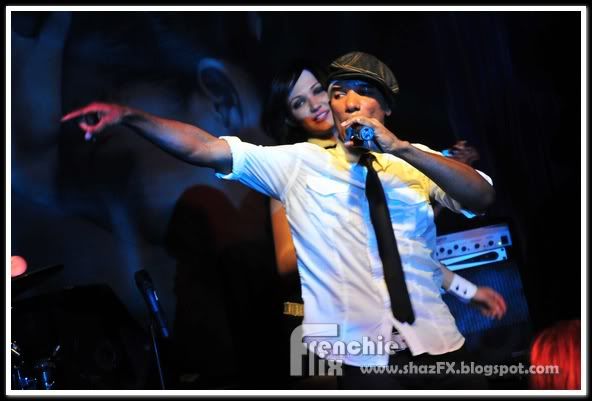 Whoa... whatchu pointing at dude?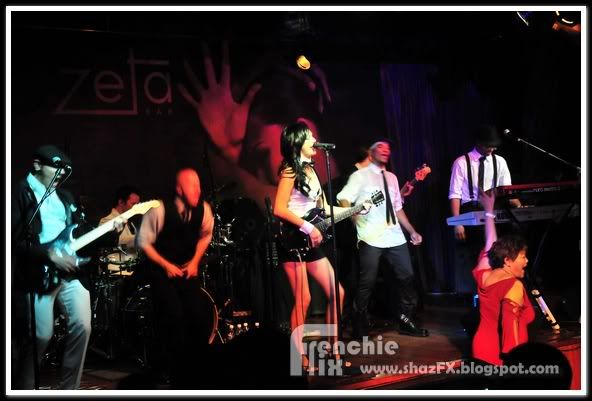 Xpress Band LIVE in HIlton KL
Xpress Band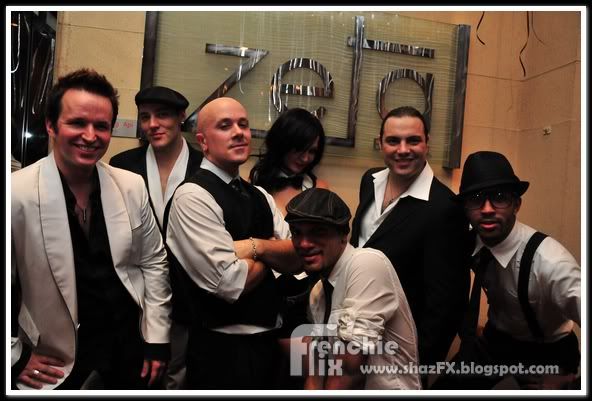 Xpress Band
Was with Charlie, Eric, Bel, Jean and a few others on this night. Thanks guys for the great company! I can't wait to RE-LIVE this moment again. Before i end this update... i know some of you may have some questions like...
a) Is there a cover charge?
Well this was what Andrew Loh asked me at the Gym today when i told him about hangin' out at Zeta Bar next week... anyways the answer is NO COVER CHARGE. Just enter, enjoy the show and get your drinks over the counter.
b) How much are the drinks there?
It's almost the same like at any other bar / lounges / pubs i believe...
c) How many people can fit in a cubicle seating area?
Errm...7-8 people maximum i think! Well unless you realy want to squeeze in 10 people :P
d) How old do you have to be? Is there an age restriction...
From what i saw the other day... upon entry there's a sign which says that you need to be over 21 years of age to be permitted to enter.
Anyways... this was my 1st TIME to Zeta Bar at Hilton KL, always hear about it... but never really got the chance to swing by to enjoy the performances and all... well now that i know what i've been missing out on, it's time to ENJOY!
Oh yea... almost forgotten! You must CHECK-THEM OUT before end of April, because Hilton KL changes bands performances every 3 months if i'm not mistaken... so yea head on over there this weekend!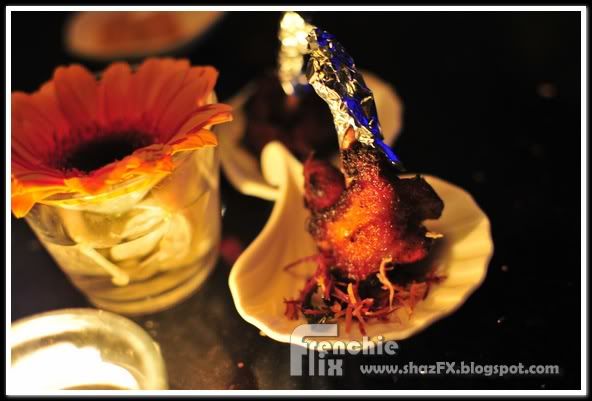 Ate some finger food on this evening...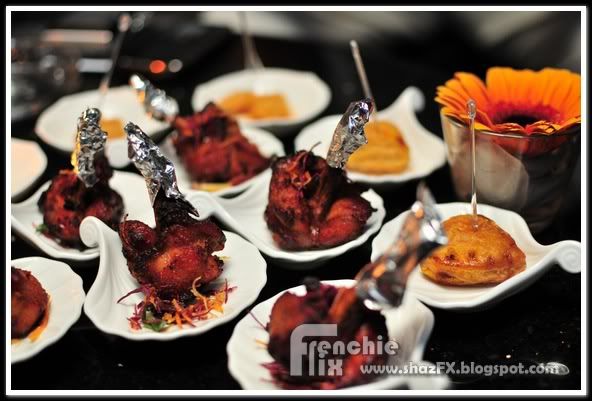 Yep more finger food...
Chocolate Brownies with chocolate cream!
Thank you for the great evening & for inviting y'all!!! Let's look forward to the next one!
Labels: Hilton KL, Live BAND, Xpress Band