SINGAPORE's 91.3FM
Wasssuppp Shaz:
I am BACK from Singapore!!! Yep... surprised u huh! Didn't know i went to Singapore did you... LOL... LMAO! Ok ok... back to the serious part of this blog update! Just 1 more week's worth of work here in Kuala Lumpur and i'm off for my holidays and work outside of Malaysia.
Radio 91.3FM Singapore
Meets... XFM 103.0 Malaysia Radio Announcer:


Was in Singapore to visit Radio 91.3FM, and great thing bout the stations in Singapore is that they all go by FREQUENCY MODULATION as their name and unlike here in Malaysia where we have special names for each station (which also depicts the stations playlist).
For example in Malaysia we have hitz.fm (that plays all the hit music), MixFM ( that plays all the mix music genre), Lite FM (that plays all the oldies and current oldies). Why is that so? Because... Singapore is an Island that's quite BIG n a GREAT nation... without doubt! But they only need 1 frequency for the whole nation... unlike here in Malaysia, we have to cater to different parts of the nation for different frequencies.
The good thing about Malaysian Radio and its different frequency throughout the nation allows for more stations to broadcast, and not only that... but it's also for more advertising opportunities.
Did you know that if you listen to the same station in central region and at the same time.... another friend listens to the same in northern region and another at the southern and eastern region of Malaysia.... they all will hear DIFFERENT adverts that's being player for 1-2 minutes every hour!!!
How so...? Well this is called the LIU - Local Insertion Unit. Allows for small businesses (and SME's) to tap the radio market to promote their businesses at the same time. Let's have a look at it like this....:
Sean has 3 Nasi Kandar restaurants up in Penang... all 3 are around the island and Kedah aswell. He wants to promote his restaurant on Radio but he doesn't wanna spend unnecesssarily... In order to cater to his customers and soon to be... he will promote his restaurant via a 15-30-45 seconder advert On Air via the Local Insertion Unit (LIU). So when his advert comes up on air in the Northern region... well in the Central region you may hear something else like a Foot Reflexology Massage advert for KL area only!
Awesome innit... on the other hand!
Was in Singapore to visit Radio 91.3FM - great people here! Really an awesome team to work with. They are a bunch of dedicated announcers and really work off the charts!!!
Based in the Toa Payoh News Centre here in Singapore. Great big building with cool security! Studio area is very different than what we have here in Malaysia. Well i've visited almost every radio studios here in Malaysia apart from RTM / Angkasapuri.
If you're talking about AMP Radio Networks, Media Prima, StarFM stations... yes i've been but the rest NOPE! :( A very conducive environment we have here at the All Asia Broadcast Centre in Astro - Technology Park Malaysia. It is impressive actually, if you've been to my office here. Well... that is compared to other stations... yep! WE have some of the most advanced technology in radio broadcasting here.
Radio 91.3FM - Met up with Boy Thunder, Jeremy, Maddy and the Married Men! LoL... great fun trip i had! Got to know how it's like working as a radio announcer in another country. Got to know how's the working environment is like there.
Funny bunch they are! Although we live in 2 different countries - the commercial radio laws / rules T&C are about the same but rather more relaxed there.
I had the opportunity to stay on during their LIVE shows! For their morning crew... and got INTERVIEWED by them LIVE on AIR! Was so afraid that i might say something that would get them into trouble. Well... the thing is i don't really know what's the format is like in Singapore... so just to be on the safe side... i just became ME like how i am on radio here in Malaysia. T'was way too early in the morning for me actually... so i was still SLEEPYzzz!
I then stayed on for their 10AM-1PM show with Maddy... but then i had to go off early for lunch with the rest of the crew and off to enjoy some cool Singaporean malls and FOOD!
Enjoy the piccas...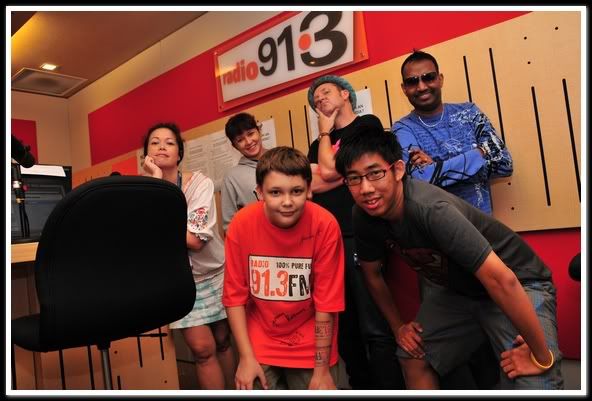 The team at Radio 91.3FM


Their LiVE Studio - i tell you their MICROPHONES r super EXPENSIVE!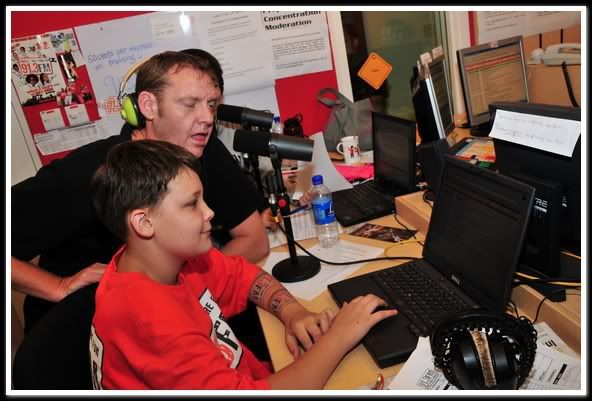 U see those MIC's... are really AWESOME!!!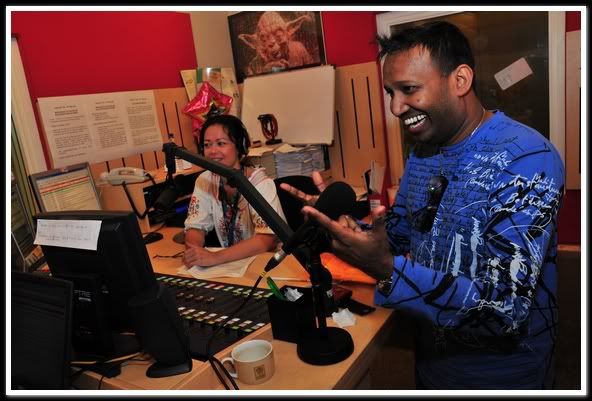 This is an AUX mic, so not too ex! :P Overall the ON AIR system is about the same!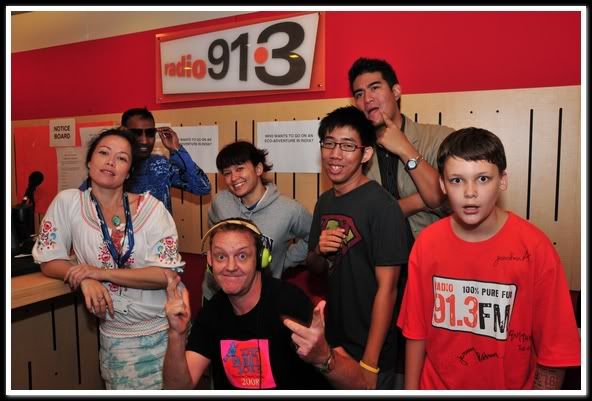 I think we can change this into a PJ Laugh Fest pic :P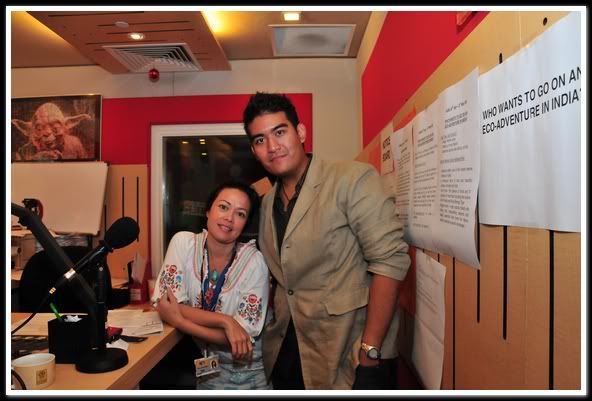 Fuiyohh MADDY!!!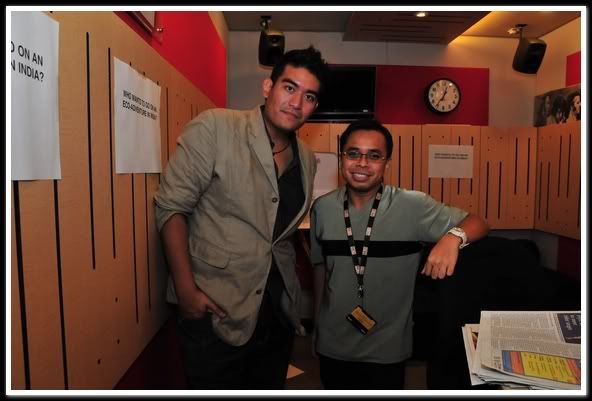 Thx alot bro for the Tour! :)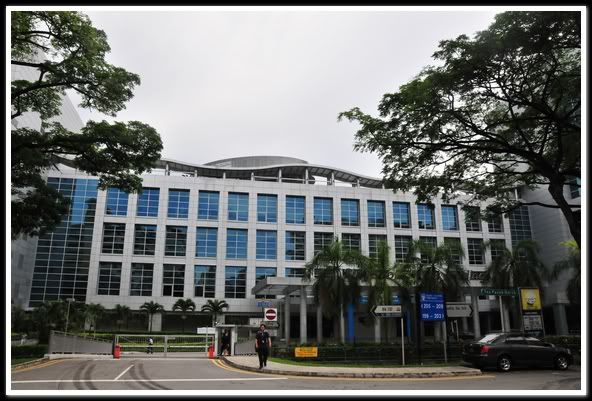 SPH Union Works - Toa Payoh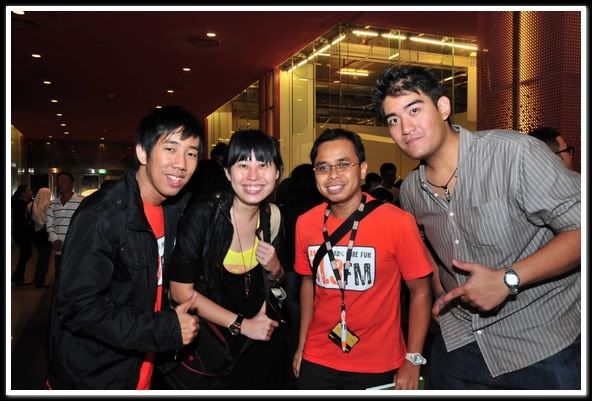 Shopping / Makan / Chillax - Radio 91.3FM Singapore meets XFM Radio Announcer (Malaysia)
Labels: 91.3FM, Boy Thunder, Married Men, Radio 91.3FM Singapore, Shaz XFM, Singapore, SPH Union Works, Toa Payoh