Chillax w/ Nicole, Kenny, Jomi, Spinzer, Cheesie & frenz...
Wasssuppp Shaz:
iTALKWHOA event last nite was awesome!!! Managed to meet up with lotsa old buddies, those whom i lost contact with, new friends, blog mates from here and there! It was like the whole world was there! Stay tuned for more updates bout this UnIFYing PLATFORM that unifies all your social media & apps all in one without any installation required! What is it??? "iTALKWHOA!" by TM.
Birthdays!!! So many birthdays, not enough time for me to celebrate and blog all about it all at once! SO here's a "belated" b'day update for Nicole Kiss (Tan) and Jon Ming (Jomi) b'day that we all celebrated at Centrepoint - Bdr. Utama @ Kopi Bar.
Anyways, it was more of like a surprise actually for both Nicole & Jomi. As we were there actually for dinner and oops there goes the B'day cake appeared out of nowhere!
I'd like to take this opportunity to wish y'all my friends who'se Birthdays are in this month of April! a HAPPY BIRTHDAY!
Anyways, dinner with Cheesie, Kenny Sia, Nicole Kiss, Jomi, Spinzer, Thomas Yap... this was an awesome evening! Catching up with friends from near and far... really if you all have time to catch up with your collegemates, schoolmates, and officemates... just hang out with them once in a while! Don't just go out with your blog mates all the time! Yes it's cool to hang out with BLOGGERS! I know, i love it too. But juz don't forget your other friends k!
Have a balance in your life for all your friends & family! Your close friends and make time for people! I know i lead a busy life sometimes, and now am trying very hard to make time for everyone! So those who i haven't seen for a while, please drop me a msg, text or gimme a call! WE shall hang :)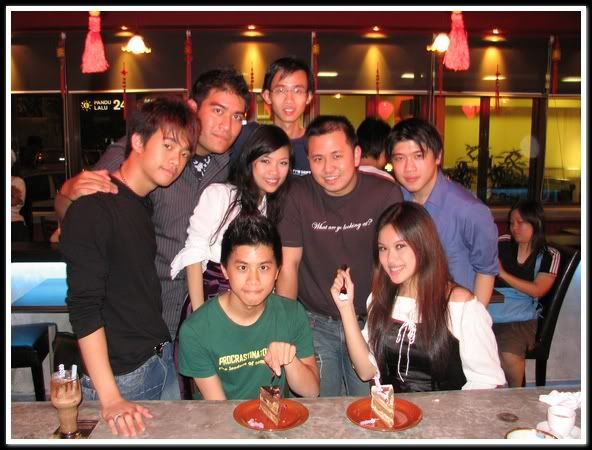 The Dinner & Supper @ Kopi Bar Ctr-Point
This place has class!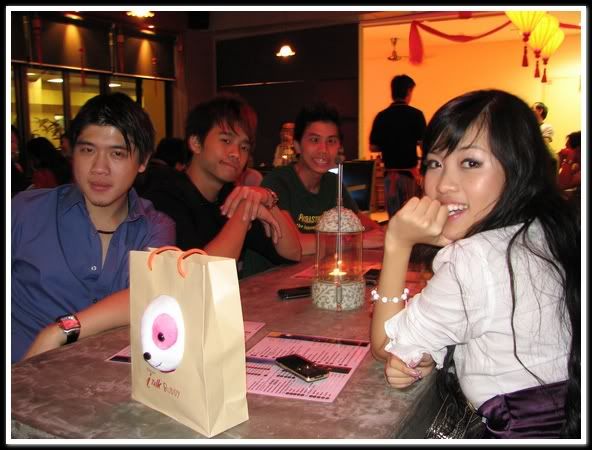 Spinzer (Chris Tock) & Cheesie (Ringo Tan)
Kenny Sia & Ringo Tan
Wahhhh i oso want to have CAKE!!
Hehehe Hope y'all like the CAKE :)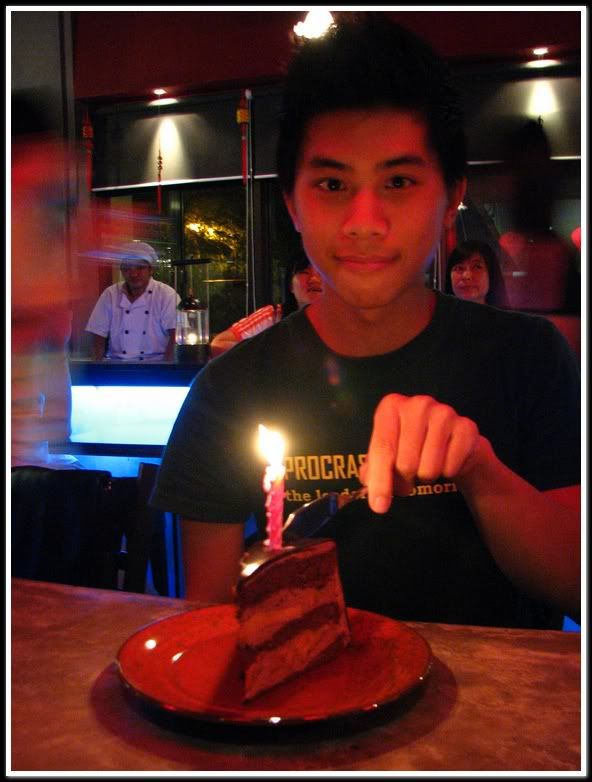 Happy B'day bro!
Ringo & her kitty n doggy!
So cute lerrr!!! I got a cat at home :P
The B'day Girl & Guy!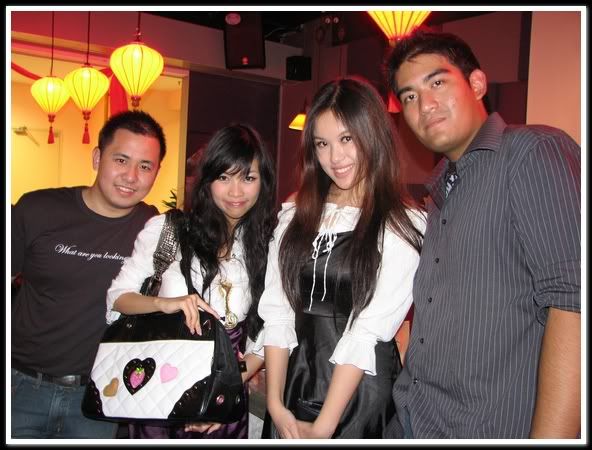 L-R: Kenny Sia, Cheesie, Nicole & Me
Labels: 1Utama, Bdr. Utama, Belated Birthday, Centre Point, Cheeserland, Cheesie, Chris Tock, Jomi, Jon Ming, Kenny Sia, Kopi Bar, Nicole Kiss, Nicole Tan, Ringo, Spinzer, Thomas Yap, Yap Thomas