My 2010 GEAR: "Pokai edi"!
Wasssuppp Shaz:
Just came back from Malacca on Sunday, and i ate so so much there! So now... have to buck up on exercise in the gym, weights, sit ups and all! My work timing is a bit screwed this 3 weeks coz i'm doing drive time! Means i'm on air 4PM-8PM.
Which means am only able to go gym after or before work. But that means, if i go before work.. i'll be so tired at work! After work.. then i don't really have a life with friends then! Hmmm.. how now brown cow? Hahaha...
Anyway - Been spending so much the past few weeks! Especially now that i need to change my car tyres to either a Michelin Pilot Sport 3 (RM460 a pc) or GoodYear (i forgot what model - but around the same price). Hmm... BONUS oh BONUS please come in SOON!!!
Anyways, this year marks the year that i really SPEND on my camera ever since i bougth it last yr :P Here are my full gear as of current moment!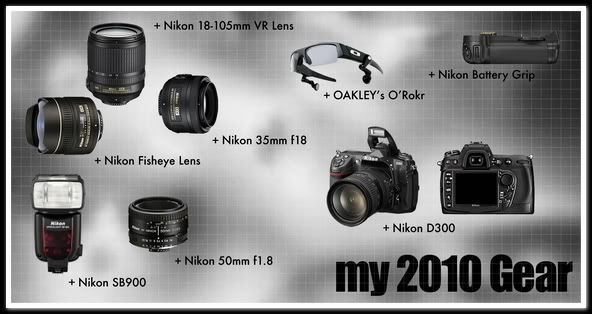 Oh yea... almost forgotten to let y'all know that i will be going for a PARTAYYY this wednesday night right after work! It's something cool...something new to hit town! am sure you've read about it in my previous post!
It's the "TMiTALK" WHOA!!! - Launch / Event / PARTAYYY!!!
A brand new platform for y'all to use all the SOCIAL MEDIA such as Facebook, Friendster, YM, MSN, TWITTER and many others... all on just one platform rather than having to check everything and opening every single app! Fuiyohh...
Check it out...
Direct LINK:
My BLOG Post on WHOA!
/
TMiTALK WHOA!
Labels: CAMERA, Cheap Calls, My GEAR, Nikon D300, TM iTALK Whoa, UNIFIED Social Media Platform, WHOA