B'day Bash with Buntings & Banners...
Wasssuppp Shaz:
Its the OSCARS day today... and i've sent a couple of my friends, fellow bloggers to the EXCLUSIVE LIVE Screening of THE OSCARS at GSC Signature @ The Gardens MidValley this morning. Stay tuned with me on my blog for more COOL things for YOU to experience! Remember, my blog is all about Sharing Experiences and Sharing is BELIEVING!
The B'day Bash: To my surprise... i was brought out for dinner one fine evening right after gym at the Curve Fitness First... TONY ROMA's... it was a BIRTHDAY PARTY for BIG Ol' ME!!! Oh Me Gawd...
There at the end of one corner in Tony Roma's... my bunch of friends - a big banner of me and a birthday cake waiting for me! HAPPY BIRTHDAY SHAZ! I was the STAR of the hour... a celebrity for the first 3 mins in TR's! Dang... people around me were wishing / singing the B'day song... THANK YOU y'all and the diners at TR!
My birthday this time was definitely a different one... especially something that i didn't have to organise or think bout anything! Wow... the feeling is just awesome! I guess now i know how it feels when i organise B'day parties for my friends... this long awaited feeling...i feel it now!
Thank you to the organising committee... Patrick, Chris, Mikel, the designing committee from Singapore Terry, the printing committee...the cake'ing committee.. LoL and everyone!!! Thank you for coming, thank you for making it a DREAM COME TRUE!
The only thing i wanted...the only thing i waited for... just a small birthday celebration between me n my friends...nothing big, nothing fancy...i LOVE it!
The bunting, the B'day Cake and the B'day Pressie!
I was like REALLY HUH... thats for me HUH.. NO WAY...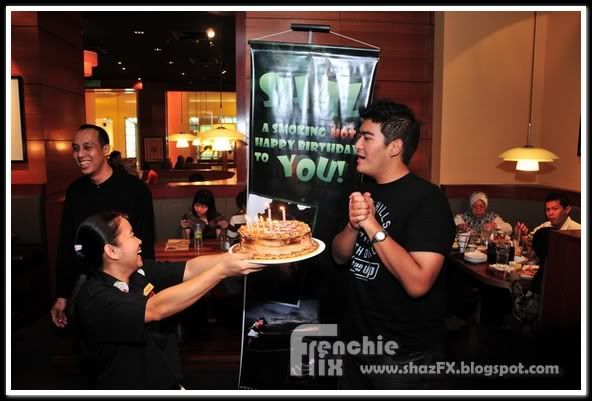 The Tony Roma's Manager said: YES SHIT! lol...
And i was like....speechless!!!
Mikel, Patrick, Me and Chris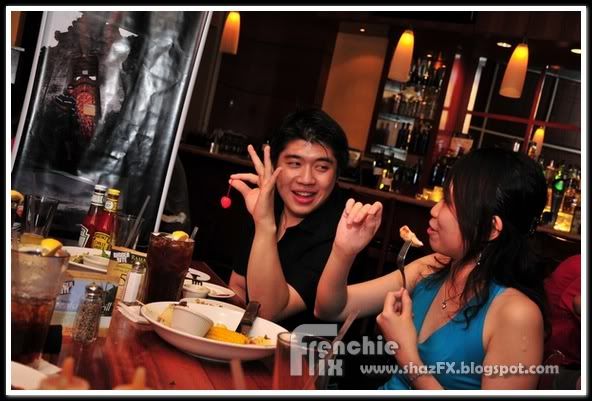 Chris teaching Kylie to do a lil' something...i dunno what!
Wern Chiet & Pei Zhoung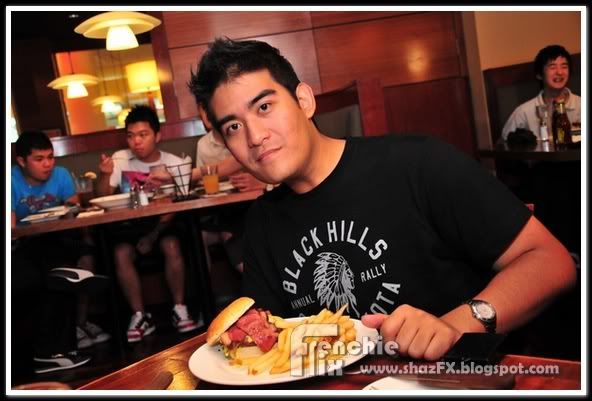 My dinner... a plate of BURGER...
Time for everyone to get funky with this ... sign!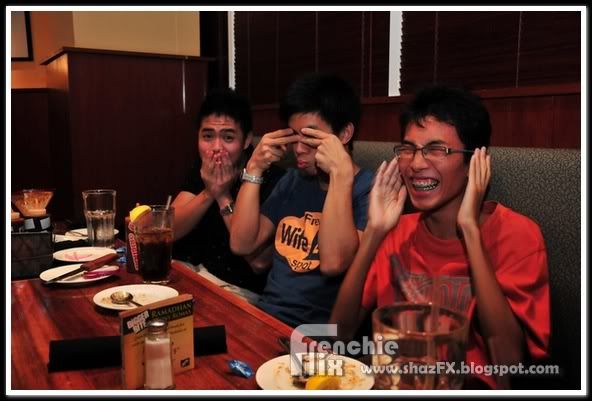 Speak no evil, See no evil, hear no evil...
Brian juz came back from the States!!!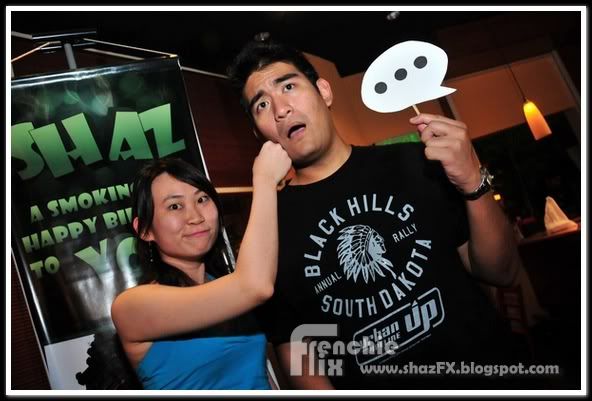 Kylie who likes to pinch me!
Last but not least... everyone in da' pic :)
Thank you for making this day a memorable one!
All these while i've been celebrating everyone else's b'days...and organising frenz bday...i never really knew how HAPPY they felt... from what i've helped in organising... maybe for some i called like 30 over friends of theirs to ask to go for the party, and those that i go all the way to organise with the restaurants and printers... well now i know how it feels to be on the other side... the RECEIVING side!
I wonder what's next up for me... Hahahah!!! This could be a good thing if it continues for many many more yrs!! Whee...
Labels: Banner, Birthday, Bunting., Surprise, The Curve, Tony Roma's