All it took, was less than a minute!!!
One or the other... all it took was less than a minute! To do what??? That's the question that's been intriguing your mind, hasn't???
Alot of things can happen in a minute, perhaps a frighin GOAL by the Germany TEAM and you hear people in other houses nearby and mamaks scream frantically "GOOOOAALLL!!!". Even happiness can turn into sadness in less than a minute (talkin' bout being robbed *cross fingers* or even being dumped by your GF...and the usual truth no more credits in your phone and not being able to call your loved ones).
Well, for me everything has been going my way all these while! Especially with online transactions that has been going really easy on me! Saves time, energy and money too!
My update this time around, talks about how i managed to RELOAD my iTALK WHOA! online credits in less than a minute. Yes, all it took was lesss than 60 seconds!
Juz a RE-CAP for those who may not have any idea what i'm talking about. Well I've been using the iTALK WHOA! platform for many many months now! Not just to call the myriad of my friends overseas (yeah...miss my schoolmates darn much from the International School of Paris and British School of Paris - now that they're all over the globe, calls can be expensive - but NOT - no fret with iTALK WHOA!), but also to send out SMS - read up my twitter updates and to even log on to Facebook, MSN Messenger and also send out e-mails from my own iTALK WHOA! e-mail inbox and even my Gmail.
Make it easy for y'all...mates! It's an ALL-IN-ONE platform! So what for logging on so many different websites, portals... just to do your stuffs when you can do it at the convenience of one single platform? :) Get it!!
iTALK WHOA! Credit w/ Online Purchase:
Now, back to business! We were talking about how can i do this in less than a minute! WHOA!... well reloading your credit has never been easier!
Previously, you are only able to purchase movie tickets online, pay for your monthly bills, buying your prepaid credit reloads and a few others! But now, life is so much easier!
I know some of you previously msg'd me asking WHERE TO GET iTALK Prepaid Credits??? Well... it is easy to get it, but you may have to do more than just walking to the shop to get it. Now, am sure you have an online bank account with at least one of the following:
Maybank - Alliance Bank - AmBank - EON Bank - RHB Bank - CIMB Bank and not to forget Web Cash & Mobile Money (not to forget other banks accounts stated in the web-portal of iTALK WHOA!).
Here's an example:
How to purchase iTALK WHOA! via Maybank2U:
Just follow the example below, and all it takes is less than a minute for you to RELOAD (hassle free) your iTALK WHOA! credits!
Log on to your Maybank2U - then click on...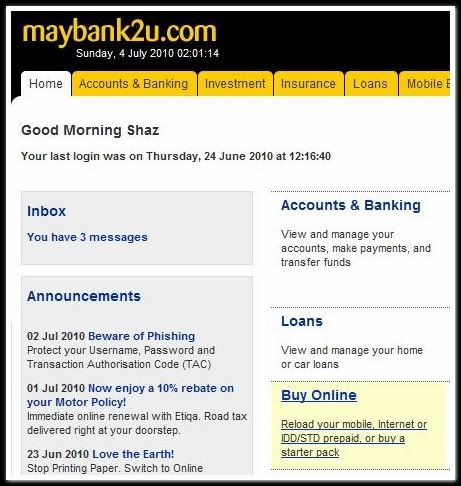 Click on BUY ONLINE (you are on your way to the FASTEST way to re-load!)

Click on IDD / STD Card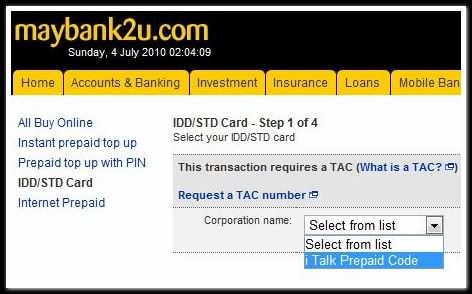 Click on iTALK Prepaid CODE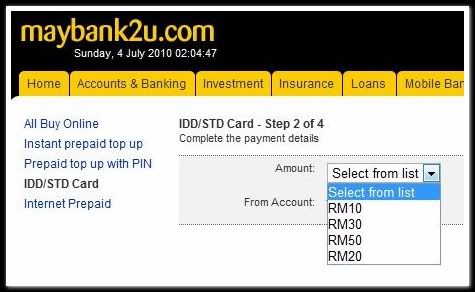 Click on the value of the reload you'd like to purchase. There are 4 denominations to select from!
How to reload your iTALK WHOA! from a top-up card:
On your MAIN Landing Page of iTALK WHOA, click on "iTALK CREDIT" and you will get this page.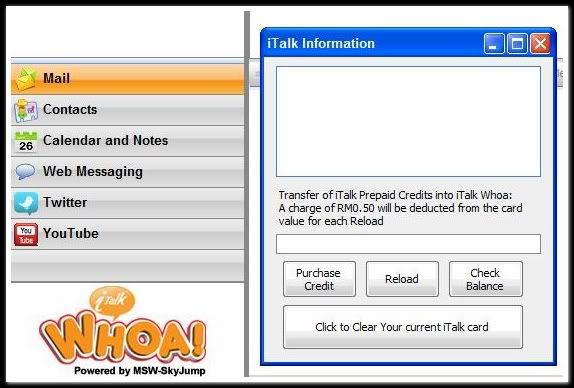 Here, you are able to purchase credit, reload & check your balance. Key in your iTALK WHOA reload number from the card.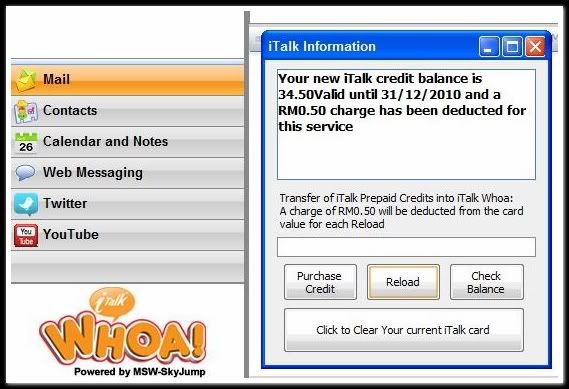 Click RELOAD - Voila... you're done! (there will be a 0.50 cent charge for every reload).
The following few pages after this is very simple! *TOP SECRET* can't show it here online coz it has my Maybank Account details! HAHAHA... Anyways after this you will request for your TAC and that's it... after keying in the number you will get your RELOAD number immediately.
HASSLE FREE it is!!! Try it out today if you haven't... PSSSTTT... if your company may have blocked access for you to use social media networks from the office computer! YOU MAY USE iTALK WHOA! to go online and get CONNECTED to the networks yO!
*that didn't came from me ok...*
iTalk Purchase Online:
iTalkWhoa offers greater saving in making calls and SMS to international and domestic destinations. Current users of iTalkWhoa are able to purchase iTalk credit through iTalk dealers' nationwide, selected petrol stations, iTalk kiosk, and many other iTalk outlets nationwide.
Now, iTalk can also be purchase through this portal. Users can purchase using Maybank, Alliance Bank, Ambank, EON Bank, RHB Bank, Web Cash, Mobile Money, CIMB Bank and other listed banks accounts in the portal.iTalk credit can be purchase by 4 denomination that are RM10, RM20, RM30 and RM50.
Once purchased, the credit will be automatically credited into iTalkWhoa account. There is no hassle remembering the pin number and reloading. With Digital Certificates using Secure Sockets Layer (SSL) Protocol with end-point security management, users can accessed this portal without hesitance in security of their account information. Use iTalkWhoa now for greater savings and convenience
Labels: Credit Reload, IDD, International Call, iTALK, iTALKWHOA, Online Reload, STD, TM iTALK Whoa