Here's a teaser of what's comin' up at DOME Cafe
Wasssuppp Shaz:
Do listen to me on XFM 103.0FM Monday-Fridays!!! But i'm having training this 2 days at Hilton Hotel, so yea... i'll be back on air Wednesday! Any song request... do let me know aite!!!
Dome Cafe - Yes, that cafe you see almost everywhere now!!! Especially in KLCC, MidValley oh yea... Pavilion (that has not 1 but 2 outlets - level 2 and 4). Many thought that it's just a cafe like others that serves hot and cold beverages and oven heated foods that's on display!
YOU GOT IT ALL WRONG people!!! Dome Cafe has a kitchen and yes they got it COOKIN' in there!!! For the year 2010, they have a full set of 10 iconic dishes that they wanna share with y'all. T'was just last friday night that Chris, Zues and myself went to Dome Cafe Pavilion to grab a bite at some of their iconic dishes!!!
It's ALL ABOUT THE FOOD!!! - In my upcoming updates over the next few days, i will showcase and share with you what are the 10 iconic dishes that we managed to find out... hehehe!!!
Chris, Zues and I went in with an empty stomach and left with a REALLY REALLY FULL ONE! Usually for food tasting / review... we just eat a lil' bit of everything... but nahh this time it's the opposite!!!
What you did not know! - Dome Cafe's newest Iconic dish for 2010, is their Affogato! It's a cup filled with a shot of espresso and a scoop of imported ice-cream! With this... you will taste a mixture of sensation that tingles your tastebuds from bitter (the espresso) and sweet (the ice-cream).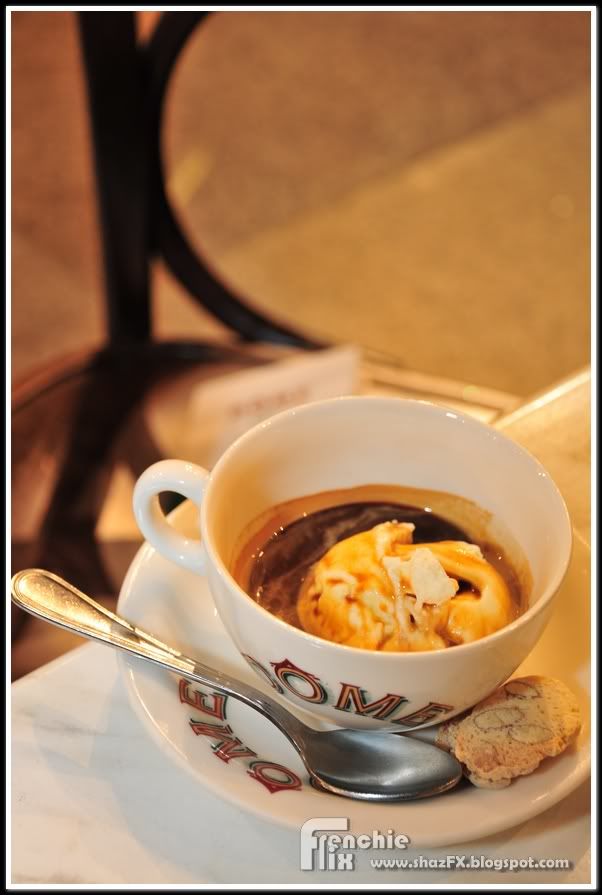 Well, Dome Cafe's one of the very few places in KL you are able to order an Affogato... if you feel like trying (which by now i know you do!), go ahead to a Dome Cafe nearest to you. You can choose either to get a single or a double shot espresso!
Stay tuned for my next few updates!!!
Labels: Affogato, Beverages, DOME CAFE, DOME MALAYSIA, FnB, FOOD, HOT FOOD, KLCC, Kuala Lumpur, MidValley, Pavilion