Krispy Kreme Opening Date...
Till date - many of us still dunno when is the new DONUT KING going to be open in TOWN! Haahah....yes before this many has been craving for J.Co and Big Apple. But i think more people are going for Big Apple now after having open so many outlets almost everywhere and no need to queue up like J.Co. But still.. for taste, texture and ingredients i'd go for J.Co but when come to think about it Big Apple is still as good and YUMMY!!!
While i was on air this afternoon! The dude who's in charge of Wendy's PR and Papa John's was given a tour around our radio studios! Saw him and i quickly ran out to say HI!!! And yes he informed me of the NEW KRISPY KREME!!!
Ahem ahem... not the exact opening date but you can
EXPECT it to OPEN in ....... April 2009
. 
Woohoo... shall be there for the opening of the Krispy Kreme in Times Square and 1Utama... can't wait for that! - Btw more updates coming up tonight!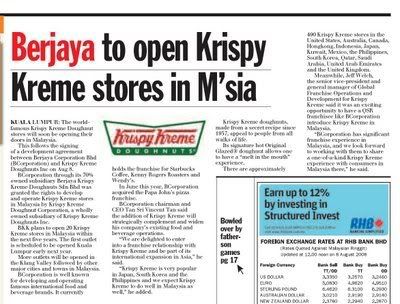 My previous blog (if you're still searching for it), you can reach it by typing the following address: http://shazFXX.blogspot.com or click on the banner below.

Please do go through the previous blog for other updates that you may have not read yet! I can't import them over to this new blog as i ran out of space on BLOGGER.

I have carefully selected key blog updates from previous year that you may wanna have a look at, please be my guess (please click on the following pictures).